Bruce Campbell Thinks The Evil Dead's Ash Can Defeat Wonder Woman And Captain America, Here's How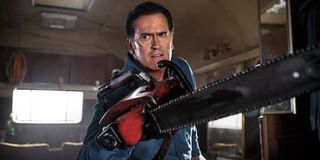 Bruce Campbell has three movies (four if you count the Evil Dead remake cameo) and one TV show's worth of experience playing Ash Williams, the man who fights the forces of darkness with his chainsaw hand and "boomstick." Since evil spirits and demons are his normal adversaries in life, you wouldn't necessarily think to have him fight superheroes. However, Campbell's given it some thought, and he knows how Ash can take down Wonder Woman and Captain America.
During an interview with Blastr, Campbell humorously explained how Ash would reign supreme over a variety of famous fictional characters. First up, Wonder Woman from DC Comics. He said:
So even though Campbell admits Wonder Woman would wipe the floor with Ash, he wouldn't give up unless he wanted to. If you saw Batman v Superman: Dawn of Justice, you know how formidable Wonder Woman was in battle against Doomsday, so a guy with a saw for a hand wouldn't stand much of a chance. Still, if she finds herself battling otherworldly creatures on Themyscira or elsewhere on Earth, he might make a good ally given his previous experience.
As for Marvel's Captain America, Campbell explained how Ash would use the Star Spangled Avenger's traditional sensibilities against him. As he put it:
This fight is a little more evenly-matched. Although Steve Rogers' was enhanced by the Super Soldier Serum, his strength, speed, agility, etc are all at peak human levels rather than superhuman. So assuming he got the saw close enough, that would do the trick, but as Cambell says, that hot dog would be the more "American" way of dispatching Steve Rogers. If Ash really wanted to seal the deal, he'd also play the broadcast of a baseball game from the early '40s. Again, though, we'd prefer if they were working together, given all the good guy vs. good guy stories that have come out recently.
Campbell is currently playing Ash Williams in the Starz series Ash vs. Evil Dead, which takes place 30 ears after the events of the original Evil Dead movies. Before Season 1 premiered, the series was renewed for a second season, which will presumably air later this year. The other opponents included in the list ranged from Superman to Captain Kirk, and for each one of them, he gave a tongue and cheek response on why his reasonably-famous character would triumph. However, there was one opponent that even Campbell conceded Ash couldn't defeat: Bruce Campbell. We tend to agree with him wholeheartedly on that one.
We'll keep updated on when Ash vs. Evil Dead Season 2 premieres on Starz, but as for Campbell, he can be seen later this year in Dark Ascension.
Connoisseur of Marvel, DC, Star Wars, John Wick, MonsterVerse and Doctor Who lore. He's aware he looks like Harry Potter and Clark Kent.
Your Daily Blend of Entertainment News
Thank you for signing up to CinemaBlend. You will receive a verification email shortly.
There was a problem. Please refresh the page and try again.