Steve Rogers Is Back As Captain America, Get The Details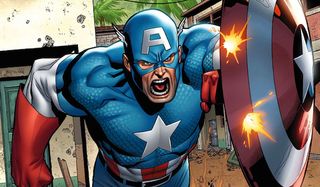 While Steve Rogers is still going strong as Captain America in the Marvel Cinematic Universe, it's been a while since he wore the star spangled uniform in the comics. During a battle with the supervillain Iron Nail, Steve's body was drained of the Super Soldier Serum, and he subsequently aged to over 90 years old, i.e. his natural age. Since then he's still assisted from the sidelines as best as he can, but his time as an old man is coming to an end. The Man out of Time is finally back in action as Captain America!
Last night during ABC's Marvel's Captain America: 75 Heroic Years special, Marvel announced a new series, titled Captain America: Steve Rogers. Written by Nick Spencer and illustrated by Jesus Saiz, the book's spring release not only coincides with the the Star Spangled Avenger being around for 3/4's of a century, but also the release of Captain America: Civil War. The creative team didn't reveal how Steve is restored to peak physical self, but the series will take Steve in a "whole new direction" as he battles the growing Hydra threat. His return comes with a not just a new uniform (designed by Daniel Acuña), but also a new shield (resembling his triangular shield from World War II) that has a deployable energy blade at the tip and can be split in half to wield as weapons in both hands.
Those who've been following the comics know that Sam Wilson, better known as The Falcon, took over as Captain America after Steve was aged. You'll also notice on the cover that Sam is still in his own red, white and blue uniform. Spencer confirmed that the Captain America: Sam Wilson series will keep running alongside Captain America: Steve Rogers. Sam's book will continue taking a "topical, ripped-from-the-headlines" approach, while Steve's book will have a more "timeless take" as he goes up against his classic rogues gallery. For those of you who are Avengers fan, Steve will also still continue lead the Unity Squad in the Uncanny Avengers series.
This isn't the first time that Steve's "taken a break" from being Captain America. In the 1970s, he took on the Nomad identity after he grew disillusioned with the U.S. government. Then there was his tragic "death" immediately after Civil War, and his friend and old partner Bucky Barnes inherited the shield. Even after Steve was "resurrected." he let Bucky keep being Captain America as he served as the head of S.H.I.E.L.D., though he returned to the identity in 2011's Fear Itself. Steve's return this time around is undoubtedly welcomed by his peers, as the Marvel universe is about to be thrown into Civil War II. With Captain America turning 75 this year, it makes since the 2016 is going to be one of his biggest years yet, both on the printed page and in other media.
You can find Captain America: Steve Rogers #1 this spring at your local comic book store or at digital sources like Marvel.com or Comixology.
Your Daily Blend of Entertainment News
Connoisseur of Marvel, DC, Star Wars, John Wick, MonsterVerse and Doctor Who lore. He's aware he looks like Harry Potter and Clark Kent.