Bryan Cranston Joining James Franco's The Disaster Artist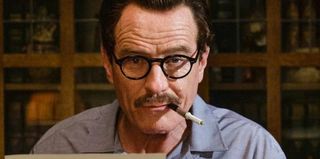 Back in 2003, the world became acquainted with Tommy Wiseau's The Room, which his widely regarded as one of the worst movies ever made, and with good reason, because it's a terrible, though bizarre, artifact. But like many less-than-stellar films before, The Room became a bonafide cultural phenomenon, inspiring countless sold-out midnight screenings and a rabid fan base. Multi-hyphenate James Franco is making a movie about the production of The Room, The Disaster Artist, and the cast just added a recent Oscar nominee: Bryan Cranston.
The Breaking Bad star was nominated for a Best Actor Academy Award yesterday for his portrayal of blackballed Hollywood writer Dalton Trumbo in the biopic Trumbo. Greg Sestero, who starred in The Room and wrote the book The Disaster Artist on which the film is based, posted on Facebook (a post that has apparently been deleted, though the reports are still out there) that Cranston is joining what has become a surprisingly star-studded cast.
Though Bryan Cranston's role hasn't been revealed—and with the post being taken down, you have to wonder how legitimate these reports are, but it's too fun to ignore—he is just the latest addition to an impressive, eclectic cast. Joining Cranston and James Franco on this journey are Franco's little brother, Dave Franco, model-turned-actress Kate Upton, Community star Allison Brie, Basic Instinct siren Sharon Stone, hunky heartthrobs Zac Efron and Josh Hutcherson, Franco's frequent co-conspirator Seth Rogen, and Jackie Weaver, another Oscar nominee. And that's just the tip of the iceberg as there are tons more recognizable names and familiar faces to be found.
Based on Greg Sestero's 2013 memoir, The Disaster Artist tells the story of the burgeoning actor's friendship (if you can call it that) with Tommy Wiseau, who he met in an acting class, and how that ultimately led to The Room. Almost in an Ed Wood vein, Wiseau is one of those driven individuals who has a very specific vision, and even though his vision is insane, borderline incoherent, and simply not very good, he sticks to his guns. If nothing else, he's an interesting character, and this should make for one hell of an entertaining movie.
In addition to writing, acting, painting, and doing random things like hosting the Oscars, James Franco has become prolific as a director, often enlisting his famous friends for their services and name recognition. Thus far the results have been an up and down affair, but at least The Disaster Artist has the benefit of a unique story and lead character to lean on. Let's just hope it lives up to the wing-nut potential. If nothing else, at least this isn't another Faulkner adaptation from Franco.
Filming on The Disaster Artist kicked off just over a month ago, and while there's no word when we may see it, you can bet we'll be keeping an eye on this one.
Your Daily Blend of Entertainment News