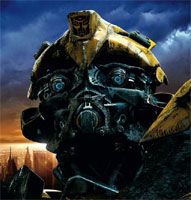 We've seen a lot of robots in the most recent trailers for Michael Bay's Transformers, but we haven't really heard them. They aren't doing a lot of talking. Word is that may be because they don't say much in the movie, but now we have an indication that at least someone speaks... sort of.
A new trailer has popped up on TFW2005 which features the Autobot Bumblebee pretty heavily. It's another variation on the "boy and his car" theme, with Shia and Bumblebee teaming up to save the world… and stuff. Watch it, and pay attention towards the end. You'll hear Bumblebee do some beeping and then you'll hear a voice, which seems to be his, say: "It's you and me." Maybe it's Bumblebee, or more likely the squeaking is Bumblebee and the voice is some other Autobot's. Maybe Optimus Prime?
Watch the trailer and hear the beeping of the friendliest Autobot by clicking play below:
Your Daily Blend of Entertainment News
Thank you for signing up to CinemaBlend. You will receive a verification email shortly.
There was a problem. Please refresh the page and try again.