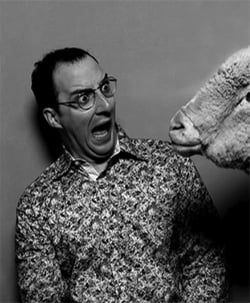 With talk of the Arrested Development film in constant flux, the stars of the show are being kept under a microscope by everyone in hopes that one day one of them will give us a definitive yes or no answer about this frustrating promise. In the meantime Tony Hale, who plays the lovable walking panic attack Buster Bluth on the show, has signed on to star in another film alongside Robyn Lively in Sironia, according to THR.
The film will follow a downtrodden LA song writer who packs up and heads east with his wife to Texas, where he presumably meets Lively, a hardcore Texan socialite. It's not mentioned whether or not Hale will play the musician or some sort of quirky side character more befitting of his usual roles.
Don't keep your hopes up for AD to happen anytime soon (it appears on Josh's list of movies to give up on HERE), but with all of the actors getting work we'll at least be able to enjoy them in their natural habitat. Hale recently appeared on an episode of the hilarious Community on NBC, as well as Chuck. You saw him on the big screen last year in The Informant! and The Goods, and it doesn't look like he'll be slowing down any time soon.
Your Daily Blend of Entertainment News