Cabin In The Woods Blu-Ray/DVD Bonus Content Announced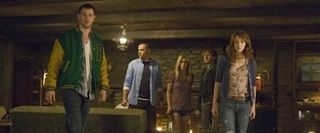 There are some movies that are so enjoyable, we leave the theater wishing we could go straight to the store and buy it, then watch it over and over again. For me, The Cabin in the Woods was one of those movies, not only because it was one of the most entertaining films I've seen in the theater recently, but also because I'm certain I didn't see everything there was to see. Those who've seen the film likely know which scenes I'm referring to. (Those who haven't, rest assured, there are no major spoilers in this article.)
The basic description for the Drew Goddard-directed/Joss Whedon-written film is that the horror story follows a group of young adults on their trip to a cabin in the woods, where they expect to kick back and have a good time. Things don't go as planned for them and very bad things happen. It's suspenseful, sometimes funny, clever and as far as the characters are written and the story is executed, it does everything right, all the way to the end. That's about as specific as I'm willing to get, as the movie's modest box office take suggests there are still many people out there who have yet to give this film a chance. Come September 18, they'll have the opportunity to do that.
Late last month, the release date for the DVD/blu-ray was finally announced, along with a look at the box art. And this week Bloody-Disgusting.com shared the specs, which include a commentary featuring Goddard and Whedon, a making-of documentary, and the Wonder-Con Q&A with Joss and Drew, among a number of other pieces of bonus content.
I'll be especially interested to hear the commentary and see the making-of documentary. The Blu-ray exclusive feature "It's Not What You Think: The Cabin in the Woods" also sounds like it could be interesting. It's also worth noting that both the Blu-Ray and the DVD will come with a digital copy.