Canada Declares Bill Murray Day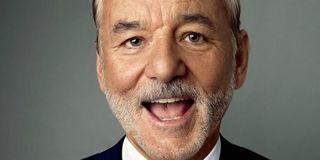 Bill Murray is an American comedy icon. But Canada has beat the U.S. to the chase in giving the star of such beloved movies as Groundhog Day, Ghostbusters and Stripes his very own day of honor. Well played, Canada. Well played.
The Toronto International Film Festival has officially declared September 5th Bill Murray Day to pay tribute to the man, the myth, the legend. On Bill Murray Day, TIFF will screen the three classic Murray comedies mentioned above for free. Tickets will be available 8 am on September 5 at the TIFF Bell Lightbox box office.
Ivan Reitman's military comedy Stripes will kick off Bill Murray Day (I really like the sound of that) at 10AM. Next up, Groundhog Day, helmed by the late, great Harold Ramis, will play. Then completing the free portion of Bill Murray Day, Reitman's Ghostbusters will play/bring the house down. TIFF teases that special guests even might show up for post-screen Q&As.
But that's not all. The Toronto International Film Festival will then present the world premiere of Bill Murray's latest effort, the dark comedy St. Vincent. The original narrative from writer director Theodore Melfi will play at 9PM at the Princess of Wales theater. However, 50 lucky Bill Murray fans will be eligible to win free passes to St. Vincent's world premiere. All you need do to apply for the chance to win these special passes is attend all three Bill Murray Day free screenings.
Nowhere in the press release does it say that cosplayers will have an edge in securing passes to St. Vincent's first screening. But I'm going to personally encourage all the Peter Venkmans, Bob Wileys, and Steve Zissous wannabes out there to just go with it. Where better to strap on your proton pack, carry your goldfish, or sport a red knit cap than Bill Murray day?
But for now, how about a little more information on Murray's TIFF entry, St. Vincent? In this laffer, Murray plays the title character, a cantankerous old loner named St. Vincent de Van Nuys. Though St. Vincent is unabashedly rude, crude and hostile, he becomes the unlikely friend and mentor to a lonely little boy who is struggling to cope following his parents divorce. Co-starring in St. Vincent are Scott Adsit, Nate Corddry, Terrence Howard, Chris O'Dowd, Naomi Watts, and Melissa McCarthy.
Check out the film's first trailer on the next page.
The Toronto International Film Festival opens September 4th, and will run through September 14th. Follow Cinema Blend for thorough TIFF coverage.
Your Daily Blend of Entertainment News
Staff writer at CinemaBlend.