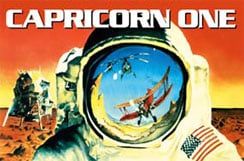 Remakes are not inherently bad. In fact, sometimes they're even a good idea. Example: Variety says a remake of the 1978 sci fi conspiracy flick Capricorn One is happening.
Unlike most of the other classic movies currently underway as remakes in Hollywood, Capricorn One has plenty of room for improvement. The story is smart and ambitious, but the execution is extremely dated and it co-stars O.J. Simpson, who even before he got loaded down with all that murder baggage, was pretty lousy as an actor.
The original Capricorn is a conspiracy flick revolving around the first mission to Mars. Just before launch a defect is discovered in their aircraft, and astronauts are yanked off the ship, dragged out into the desert, and forced by the government to fake the entire Mars mission. Moon landing conspiracy theorists are going to eat this thing up. It's a great idea, and one that could be made even better with a proper do-over.
Unfortunately, right now, John Moore is set to direct the remake from a script by Peter Buchman. Buchman wrote Jurassic Park III, and more recently he wrote Soderbergh's Che Guevera biopic. Not exactly a stellar resume, especially considering the tepid reception Che got at Cannes. Moore's resume isn't much better, with lukewarm movies like Flight of the Phoenix and The Omen remakes populating it. So while there's reason to be sort of excited about the notion of a Capricorn One do over… the folks at New Regency who are in charge of it haven't exactly gone out of their way to get top notch people to do it. Why isn't Oliver Stone doing this? Seems like the sort of thing that would be right up his alley. The team they've put together is disappointing, but maybe they'll surprise us and pull a rabbit out of their rocket.
Your Daily Blend of Entertainment News
Thank you for signing up to CinemaBlend. You will receive a verification email shortly.
There was a problem. Please refresh the page and try again.