Carnage Trailer: Kate Winslet, Jodie Foster, John C. Reilly And Christoph Waltz Behaving Badly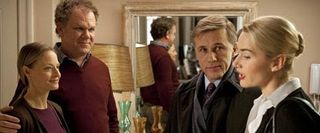 It's not the same kind of drama, tension and violence that you saw in the newly released Ghost Rider: Spirit of Vengeance trailer, but the insults and arguments in the new trailer for Roman Polanski's Carnage are equally entertaining. Starring Kate Winslet, Jodie Foster, John C. Reilly and Christoph Waltz, this adaptation of the Tony-winning play puts the four actors together in a room as two sets of parents whose sons got in a fight on the playground. From there they seem to basically go nuts, as what started as a civilized meeting devolves into insults, punches, drunkenness, and at least one case of vomiting. I'll let you watch the trailer below, which premiered at Twitch, to find out which one of these Oscar nominees/winners actually does the ralphing:
Though the plot description makes Carnage-- titled God of Carnage in its play version-- sound like nothing more than a modern spin on Who's Afraid Of Virginia Woolf?, rave reviews like this make it clear there's a lot more there, and as you can see in the trailer, a lot of humor too. Funnily enough, Ben Brantley's New York Times reviewed noted in the opening paragraph that "Oscar time" is usually when you can enjoy "the pleasure of watching really good actors behaving terribly." With Carnage set to open December 16, and the undeniable pedigree of the director and all four leads, it's a clear Oscar season pony to bet on. These are four really good actors I think almost everyone is dying to see behave badly together-- even if we have to stomach the sight of Kate Winslet vomiting to get there.
Your Daily Blend of Entertainment News
Staff Writer at CinemaBlend