Casino Royale Director Martin Campbell Didn't Like Quantum Of Solace Either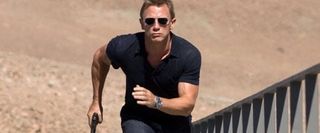 Director Martin Campbell deserves a lot of credit for the way he re-launched the Bond franchise with Casino Royale. Unfortunately the follow-up, directed by Marc Forster, did a pretty good job of erasing at least some of the good will he earned with his redo. Now that Campbell has a new movie set to hit theaters, in Green Lantern, he's talking to the press about what Forster did with his franchise on Quantum of Solace, and he doesn't sound any happier about the results than Bond fans were.
Talking to Crave about the film he says of Quantum of Solace, "Oh, I thought it was lousy." When asked to explain he added, "I just thought the story was pretty uninteresting. I didn't think the action was related to the characters. I just thought overall it was a bit of a mess really."
Yeah, it was kind of a mess. But that's in the rear view mirror and now Sam Mendes is hard at work on the next James Bond movie. And since we know Campbell is willing to talk straight with us about the nature of these films, his view on what Mendes is up to with the next one is instantly a lot more valid than the usual backslapping, Hollywood doublespeak. Of the next film he says, "hopefully this next one will be terrific. Sam Mendes is directing it and I'm sure it'll be terrific."
Your Daily Blend of Entertainment News
Thank you for signing up to CinemaBlend. You will receive a verification email shortly.
There was a problem. Please refresh the page and try again.