Catching Fire's Johanna Mason Could Be Mia Wasikowska Or Zoe Aggeliki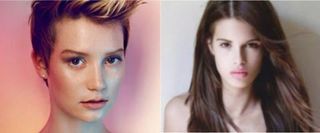 There's been a fair amount of rumor and speculation around the casting for The Hunger Games sequel Catching Fire, but it's mostly been centered around the male roles-- rumors about Philip Seymour Hoffman signing on, for example, or who might play the hunky Finnick. But one of the most important new characters who appears in Catching Fire is Johanna Mason, a fierce and sometimes antagonistic former Hunger Games champion who our heroine Katniss is forced to get along with. And now, finally, we've got some hints about who might play her.
According to The Playlist, Mia Wasikowska and model Zoe Aggeliki are among the actresses up for the part, and Aggeliki could be close to signing a deal in the next few days. She's obviously the smaller of the two names, but Catching Fire will be a giant movie no matter who they cast, and Mia Wasikowska didn't exactly become a household name even after starring in the huge success Alice in Wonderland. Aggeliki may also be better known by the time Catching Fire comes out-- she's appearing with Ryan Reynolds and Jeff Bridges in R.I.P.D. next summer, and has also been cast in the upcoming Percy Jackson: Sea of Monsters.
I was still really enjoying the speculation that Emma Stone might play the Johanna role, but odds are she's too expensive for a role that probably won't affect the box office one way or another. Whoever gets cast as Johanna has a great, challenging role ahead of her, and I'm still not entirely sure who I think the right person would be. What about you guys?
Your Daily Blend of Entertainment News
Staff Writer at CinemaBlend
Your Daily Blend of Entertainment News
Thank you for signing up to CinemaBlend. You will receive a verification email shortly.
There was a problem. Please refresh the page and try again.