Catherine Keener And Toni Collette Join Nicole Holofcener's Latest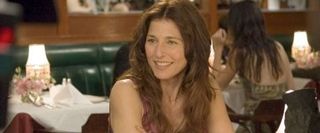 Writer-director Nicole Holofcener has been collaborating with edgy leading lady Catherine Keener since the indie auteur's first feature Walking and Talking in 1996, so it's little surprise that Keener has just signed on to play a major role in Holofcener's latest comedy, which currently is only known as the Untitled Nicole Holofcener Project. However, other additions to the cast are a bit more unexpected, though no less enticing.
THR reports that Tony Collette has also committed to co-star in Holofcener's latest comedy, joining a cast that includes Julia Louis-Dreyfus, James Gandolfini, Ben Falcone (Bridesmaids), and teen fashion and feminism blogger Tavi Gevinson, who will be making her feature film debut here. None of these performers have worked with Holofcener before, but this shouldn't prove an obstacle, as most of the above are known for being able to nail scenes of quick-witted dialogue, which is a trademark of Holofcener's style.
Louis-Dreyfus will front the film as a divorcee who is re-evaluating her identity when the last of her kids prepares to move out. She finds inspiration in a seemingly chic and totally together woman, played by Keener. And things are looking up when she begins a romance with a like-minded man (Gandolfini)…that is until she discovers he is her new idol's ex. According to THR, Gevinson will play a girl named Chloe, who is generally ignored by her parents and so has had to grow up fast. But it's currently unclear how this tied in to the main plotline, and there's no mention of what role Falcone or Collette will play.
The Untitled Nicole Holofcener Project is now shooting in Los Angeles.
Your Daily Blend of Entertainment News
Staff writer at CinemaBlend.