Celebrate Rosie Huntington-Whiteley's Defeat Of Megan Fox With Underwear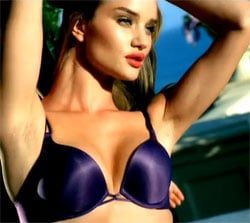 Before being cast as Megan Fox's replacement in Transformers 3 last week, Rosie Huntington-Whiteley had done, well, nothing. Nothing that is except walk around wearing angel wings for Victoria's Secret. And as you'd expect, they're pretty excited to have one of their models stepping up to the big leagues with Michael Bay. In fact they're so excited they've put together a tribute video congratulating her, and showing off her extensive curves, presumably as preview for what you'll see of her in the next Transformers film. Let's be honest here, there's no way Michael Bay hired her because she could act.
While we're on the subject, I'm not entirely convinced he hired her just because she's pretty either. Transformers director Michael Bay has an existing relationship with the people of Victoria's Secret, having not long ago directed an explosive, scantily clad commercial for them. It's hard to believe that his ties to the underwear advertiser had no effect on his decision making process, I mean, come on, he hired Rosie Huntington-Whitely. Victoria's Secret seems awfully excited to be losing their model to a feature film. What do you are the odds that they'll slip lucrative product placements into Transformers 3? Oh wait, they've already got one in it. Her name is Rosie Huntington-Whiteley and here's her Victoria's Secret, Transformers 3 tribute video. Enjoy now, feel guilty later:
Your Daily Blend of Entertainment News
Thank you for signing up to CinemaBlend. You will receive a verification email shortly.
There was a problem. Please refresh the page and try again.