Charlie Kaufman Will Adapt Young Adult Series Chaos Walking For Lionsgate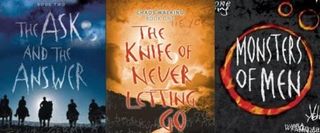 When Lionsgate was looking for a new director for the Hunger Games sequel Catching Fire, they were eyeing all kinds of prestige-worthy names, like Moneyball director Bennett Miller, or Children of Men's Alfonso Cuaron. Eventually they settled on Francis Lawrence, a fine director but not nearly up to the Oscar-worthy options they'd considered. Catching Fire was going to do just fine no matter how talented a director they hired, of course, and now the studio seems to be taking that eye for prestige and applying it to what they might hope will be the next Hunger Games-sized franchise.
According to Deadline the studio has hired Charlie Kaufman-- yes, Adaptation and Being John Malkovich's Charlie Kaufman-- to adapt Chaos Walking, the young adult series by Patrick Ness that takes place in a dystopian future in which a single young person holds the key to setting things right. Sound familiar? The rest of the book doesn't sound all that similar to The Hunger Games-- it's set on a distant planet, and things go bad when humanity is infected with a virus that makes all of your thoughts audible-- but don't think for a second that The Hunger Games is the model here.
More importantly, Kaufman actually seems really well-suited to the source material. A lot of his famous characters, whether the alternate version of himself in Adaptation or the theater director in Synecdoche, New York, seem to already live in a world in which their thoughts are audible, constantly neurotic and paranoid about how to fit in around others. Obviously the constraints of a blockbuster film means Kaufman will have to tone down his trademark imagination a bit, but hey, he worked as a script consultant on Kung Fu Panda 2-- it's not like he doesn't know his way around the territory.
It's unclear how this job will affect what's supposed to be his next directing project, Frank and Francis, which had had lined up an impressive cast in January but hasn't yet gone intro production. Maybe that Lionsgate check will help Kaufman get it made? So long as Chaos Walking does't significantly delay one of his own projects, putting more Charlie Kaufman in the world sounds like nothing but a good thing from here.
Your Daily Blend of Entertainment News
Staff Writer at CinemaBlend