Chloe Moretz In Talks To Join Let Me In's Kodi Smit-McPhee In The Wilderness Of James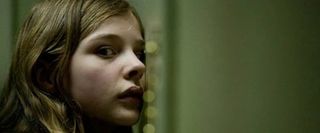 Back in 2010, Chloe Moretz starred opposite Kodi Smit-McPhee in Let Me In, a remake of the Swedish film Let the Right One In, and what I'd consider to be one of the darker, more disturbing (and better) vampire love stories in recent years. And while the two have been keeping busy since then, it looks like they'll be teamed up again for another film, as Moretz is in talks to join The Wilderness of James.
Scripted and directed by Michael Johnson, The Wilderness of James is described as "an indie film coming of age tale," set in Portland, that follows a young boy who's dealing with the absence of his father. Should negotiations go through, Moretz will star opposite Smit-McPhee, playing the role of Val. It sounds like it's just a matter of working out what she has going on this fall. Moretz' upcoming roles include the lead in Carrie, and her return to her role as Hit-Girl for Kick-Ass 2: Balls to the Wall.
Both Moretz and Smit-McPhee are in the spotlight this week. Smit-McPhee's voice can be heard in the lead role of the excellent, recently released stop-motion animated thriller/comedy ParaNorman. Meanwhile, just yesterday, we got our first look at Moretz as Carrie for the Carrie remake, and the image is impressively haunting. The two had such great chemistry in Let Me In, allowing us to believe the connection between Abby and Owen instantly. The description of The Wilderness of James is vague, but I'm guessing it won't be quite as dark as Let Me In. Still, there's definite potential for something great with the two on screen together again. Hopefully her schedule will have room for this.