Chris Evans Is An Evil Ex-Boyfriend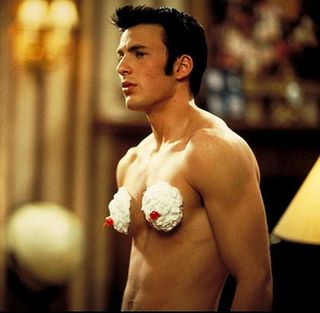 We just heard that Kieran Culkin will be joining the increasingly intriguing cast of Scott Pilgrim vs the World last week after not hearing any casting for over three months. Now the radar jumps again as we find out from Ain't it Cool News that Chris Evans has been cast as one of the members of The League of Ramona's Evil Exes. Evans will play pro-skateboarder turned actor, Lucas Lee.
Remember when parody movies were actually fun, and not just hackneyed regurgitations of clichés from overexposed movies? During that period, Chris Evans blew us away as a total jack--- in Not Another Teen Movie. He then showed us his inner man-whore as he played the Human Torch in the Fantastic Four movies. Well, his role as Lucas Lee in Scott Pilgrim vs. the World could make Evans' third time playing the perfect d-bag, a d-bag trifecta, if you will. As Ramona's Evil Ex-Boyfriend, Lucas Lee, Evans will be portraying the worst type of movie star, the kind that used to be a pro-athlete.
In case you're still wondering, no this is not based on a true story; Scott Pilgrim is a graphic novel series by Bryan Lee O'Maley that is being adapted into a film called Scott Pilgrim vs. the World. The film will follow a young anti-hero, Scott Pilgrim, (Michael Cera) and his gay sidekick (Kieran Culkin) as they battle against The League of Ramona's Evil Exes as Scott tries to win the heart of Ramona (Mary Elizabeth Winstead).
Your Daily Blend of Entertainment News
Thank you for signing up to CinemaBlend. You will receive a verification email shortly.
There was a problem. Please refresh the page and try again.