Chris Evans Endorses Michael B. Jordan's Casting In Fantastic Four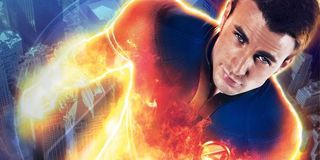 In some ways, Chris Evans (Not Another Teen Movie) crossed a nerd picket-line. When he was cast as Captain America: The First Avenger, there was a small contingent of fans who would not let this stand. After all, it was years earlier when Evans was the Human Torch, in two Fantastic Four films that apparently Fox is trying to get you to forget. Now that there's The Fantastic Four coming next summer, there's a new Human Torch, and Evans has well-wishes for Michael B. Jordan (All My Children).
Speaking to the New York Daily News while promoting Captain America: The Winter Soldier, Evans (Cellular) discussed how psyched he was to see Jordan's version of the character. In nerd-speak, yes, he gave his blessings.
Evans (The Perfect Score), who is graciously backing away from acting upon the close of his Marvel contract, sounds more than supportive of Jordan. The actor, who earned early Oscar talk last year for Fruitvale Station, has deflected, let's face it, blatantly racist attacks on his casting since the skin color of a fictional generic white person is somehow seen as an "ethnic identity." Evans goes on to fondly remark, "It's almost like we're sharing, the character is ours. I feel like I'm connected with him in a way, It's a nice feeling."
With all due respect to Evans, easily the highlight of the earlier films, Jordan (Law & Order: Criminal Intent) seems poised to nail this role. He's got the seriousness and maturity to be a poker-faced action star, but the smile and easy charisma to also be a marquee star. And even if he's terrible in the role – maybe he's too serious, or too free-wheeling, or the writing and directing basically let him and the cast down – we're stuck with the guy! Fox has a The Fantastic Four 2 scheduled for 2017, and is clearly banking on the cast of Jordan, Kate Mara (Boston Public), Miles Teller (Footloose) and Jamie Bell (Jumper) to forge onscreen identities beloved by those who would rather not remember the time Mr. Fantastic break-danced, or Doctor Doom stole the Silver Surfer's board and rode around during a Galactus storm like an idiot. Those things happened, and they were approved by adults in powerful positions: if stuff like that happens in the new film, no one's going to have any comment on Jordan's work in this not-at-all-complex role.
Your Daily Blend of Entertainment News