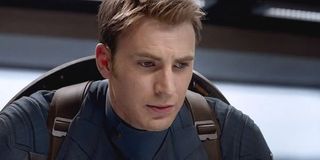 We overestimate the passion for movie-star acting that some performers might have. Acting, certainly, is a passion, and a worthy one. But you act to act, you act to perform, you act to find new truths, new depths. You don't act to become a movie star, and the bigger the star you are, the less acting you're actually doing. And in the age of superhero movies and endless franchises, your creative expression is limited if you wear a mask and hold a shield and run through explosions.
Such is the case for Chris Evans, who reaffirmed to Variety that he's done with acting and plans to retire upon the end of his Marvel contract. This new passion is directing, which he's given a shot thanks to 1:30 Train, a drama he shot in 19 days in New York City starring himself and Alice Eve. Which is actually a pretty glamorous, moviestar thing to do also, but what can you do? Evans is a handsome young dude, and when you have money and charm in Hollywood, that's the sort of thing you do.
If anything, this reflects the sad reality of the moviemaking business. Big blockbusters used to give you clout to make any other type of movie in your spare time, and you could leverage that popular fame to ensure your other pictures were worthy of financing, or out-and-out hits. You could build a career as an actor while also being a star. That's changed considerably, as audiences have become more devoted to brands and franchises over actual people, with many actors having absolutely no profile outside of their precious tentpoles. And with sequels being made closer together, necessitating the availability of some actors, it rarely gives them time to develop a relationship with the audience in any other role.
Since 2011's Captain America: The First Avenger, Chris Evans has done three non-superhero movies. He's fantastic in Puncture, a legal drama based on a true life case regarding negligent medical procedures and the corruption of the medical supplies industry. He also showed up in the frothy romantic comedy What's Your Number? as a beefcake to fawn over. And he had a gonzo supporting role in The Iceman as an ice cream truck-driving killer. These films have something in common: nobody saw any of them. What's Your Number? was a wide release that only managed a piddling $14 million. The Iceman couldn't crawl over $2 million. And Puncture, where Evans gives the best performance of his career, made a little over (this is not a typo) $68,000. His next film is Snowpiercer, an ensemble piece that's been a huge success overseas, but hasn't been able to even secure a release in America due to commercial re-edits being applied by distributor The Weinstein Company. Chris Evans admits in the Variety piece, ruefully, "No one sees my good little movies, man."
It's not as if Chris Evans is struggling to make great art or to suffer for his craft. Evans claims he was reluctant to take the part and turned Marvel down many times. "The problem was initially, it was a nine-movie contract," he says. "And they said, if these movies take off and do very well, and my life changes and I don't respond well, I don't have the opportunity to say, listen, I need a fucking break. That just scared me." Chris Evans, whom the Avengers cast credits as "the captain of team spirit," will ostensibly star in Captain America 3 in May 2016, his fifth appearance as the character since 2011. Considering the heavy between-shoot regiment of staying in shape, interviews and press surrounding the films, that's an awful lot of time to devote to Captain America and less to any other movie. Or having a kid. Taking a lover. Recording an album. Doing charity. Literally anything else. Not every actor is Scarlett Johansson, who is under contract from Marvel while also appearing in three to four other movies a year. But even she admits, "It can feel like a gilded cage at times… it's something that obviously allows you the opportunity to do things like go and direct your first feature and have a built-in audience for that. At the same time, at the end of the job, there's always a super suit in your future."
Managing these franchises has been an act of squeezing actors into fixed roles and keeping them from any sort of freedom. If you ask David O. Russell, it's "slavery": that's what he said of the annual Hunger Games commitments that Lawrence tends to in between receiving Oscar nominations for his movies (let alone X-Men films). And while he very quickly regretted his choice of words, it helps explain why rumors circulate that Lawrence could be looking at a brief retirement: it's also why Shailene Woodley was forced to choose between the role of Mary Jane in The Amazing Spider-Man sequels and the continuing Divergent series. And, ultimately, it's why Robert Pattinson and Kristen Stewart are no longer considered A-List leading actors, just years after they fronted a box office sensation.
It's not all bad, really: Andrew Garfield has almost no public profile, but he'll show up in the next Martin Scorsese movie in between Spider-Man films. Of course, look what happened to Tobey Maguire: his commitment to Spidey saw him use his A-List cache to pop up in supporting roles in Seabiscuit and The Good German as his sole parts during that franchise. He keeps busy as a producer, but he's not at all a blockbuster leading man any longer, and a look at the projects he passed over during the web-slinging years reveals a host of great-sounding unmade scripts like Tokyo Suckerpunch and The Quiet Type.
No one is weeping for these people, who are gorgeous, wake up gorgeous and go to sleep richer. Especially not Chris Evans, who now gets to pursue the dream of directing, one he'll live out by directing another film at the end of this year. He credits Captain America for the opportunity, saying, "Without these movies, I wouldn't be directing. They gave me enough overseas recognition to greenlight a movie." But he then adds, "And if I'm speaking extremely candidly, it's going to continue to do that for as long as the Marvel contract runs… If I'm acting at all, it's going to be under Marvel contract, or I'm going to be directing. I can't see myself pursuing acting strictly outside of what I'm contractually obligated to do." Chris Evans is a wonderful onscreen presence, an actor of great skill and dexterity, not to mention starling beauty. You'd hate to think that playing a superhero has extinguished any desire he might have to appear before the camera. Don't be surprised if he's not the last actor to feel this way.
Your Daily Blend of Entertainment News