Chris Rock Wants Melissa McCarthy For The Film He's Writing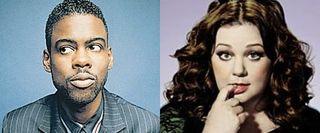 Chris Rock had one of the most surprising and charming acting turns at this year's Sundance Film Festival, playing the beleaguered husband of Julie Delpy's character in 2 Days In New York, an energetic comedy she also directed. You wouldn't normally think of Chris Rock and Sundance belonging together given his track record of enormous studio comedies like Head of State or Grown Ups, but the comedian seems to be venturing beyond just the giant films, and is now in the process of actually writing his own comedy-- one for which he's hoping to lure a recent Oscar nominee as his co-star.
Talking to The LA Times at Sundance, Rock said he's "trying to romance" Melissa McCarthy, by which he means convince her to star with him in a new film as a husband and wife who he describes as "a Jerry Springer couple." The mind reels at all the possibilities there, but Rock isn't revealing anything else, saying only that he's made some progress in talking her into joining him. Of course, McCarthy probably has plenty of other talented people beating down her door right now, riding high with her Best Supporting Actress nomination for Bridesmaids, making plans to star opposite Jason Bateman in a comedy from Seth Gordon, and also starring in another comedy she wrote and will executive produce, called Tammy.
Will she be able to make time for Rock amid all that? I know I would, but I'm not an Oscar nominee either. Based on how good he was in 2 Days In New York, though, I'm dying to see Rock do some more good work, and he and McCarthy seem like a team-up too good to be true.
Your Daily Blend of Entertainment News
Staff Writer at CinemaBlend
Your Daily Blend of Entertainment News
Thank you for signing up to CinemaBlend. You will receive a verification email shortly.
There was a problem. Please refresh the page and try again.