Chris Weitz Officially Directing New Moon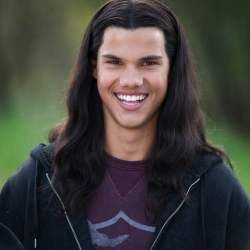 Well, it's official. Our complaints did no good, and Chris Weitz has been officially selected to direct New Moon the werewolf-tastic sequel to Twilight. Summit issues a press release today that announced Weitz's participation in the project, as well as some curious news about the fate of Taylor Lautner, who played Jacob in the first film.
In the plot summary of New Moon, Jacob is mentioned but without Lautner's name attached, while Kristen Stewart and Robert Pattinson's names follow their characters in parentheses. Are they ditching Lautner just as his character actually starts to get juicy? MTV mentioned rumors that Lautner is "too small" to play Jacob once he goes all werewolf, and that other actors are being considered. Now that we've settled the issue of who will direct, will this be the latest Twilight rumor to obsess over?
Check out Summit's press release below, including Weitz's super-serious promise to fans that "it will be my duty to protect on their behalf the characters, themes and story they love." Do you trust him? Might want to chat with some Golden Compass fans before you make up your mind on that.
Los Angeles, CA December 13, 2008 – Summit Entertainment announced today that filmmaker Chris Weitz has been hired to direct the second film in the studio's TWILIGHT film franchise. The film, NEW MOON, is based on the second book in author Stephenie Meyer's blockbuster book series. The announcement was made by Erik Feig, Summit's President of Production.
Weitz, an Acadamy Award®-nominated writer, director and producer, has a proven track record working with a broad range of material dealing with youth-oriented characters, fantasy and action. As such, he has the potential to bring alive in NEW MOON the dimensions and depth that fans will demand in the next installment.
Feig stated, "We love Stephenie Meyer's fantastic TWILIGHT series. Thinking long and hard about how to turn NEW MOON into the amazing movie we know it will be, and working with Stephenie Meyer to find the right candidate, we are thrilled to announce Chris Weitz as director of the film. Chris very much understands the world of NEW MOON and has the skill set required to bring the book to glorious life as a movie. We think he will be an excellent steward of Stephenie Meyer's vision."
"I am honored to have been entrusted with shepherding NEW MOON from the page to the screen," said Weitz. "The extraordinary world that Stephenie has created has millions of fans, and it will be my duty to protect on their behalf the characters, themes and story they love. This is not a task to be taken lightly, and I will put every effort into realizing a beautiful film to stand alongside a beautiful book."
Weitz previously penned ABOUT A BOY, which led to an Academy Award Nomination for Best Adapted Screenplay in 2002, and adapted and directed THE GOLDEN COMPASS (2007), which was nominated for two Academy Awards and won the Academy Award for Best Visual Effects. Additionally, Weitz co-wrote the 1998 animated film ANTZ and went on to produce the major box office success AMERICAN PIE and executive produced the film's two theatrical sequels. Weitz also produced IN GOOD COMPANY starring Dennis Quaid and Topher Grace and executive produced AMERICAN DREAMZ starring Hugh Grant, Dennis Quaid and Mandy Moore.
In NEW MOON, Bella Swan (Kristen Stewart) is devastated by the abrupt departure of her vampire love, Edward Cullen (Robert Pattinson) but her spirit is rekindled by her growing friendship with the irresistible Jacob Black. Suddenly she finds herself drawn into the world of the werewolves, ancestral enemies of the vampires, and finds her loyalties tested. Production on NEW MOON is scheduled to begin in the coming months and the studio is planning to release the film towards the end of 2009 or early 2010.
Feig will oversee NEW MOON for the studio along with Summit Entertainment's Director of Production Gillian Bohrer.
Weitz is represented by WMA and by Alex Kohner of Morris, Yorn, Barnes & Levine.
Staff Writer at CinemaBlend
Your Daily Blend of Entertainment News
Thank you for signing up to CinemaBlend. You will receive a verification email shortly.
There was a problem. Please refresh the page and try again.