Christina Hendricks And Olivia Munn Join I Don't Know How She Does It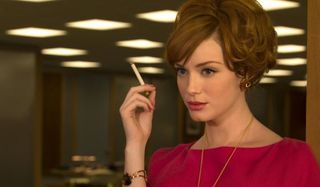 Though she's still incredibly famous thanks to the lingering popularity of Sex and the City, Sarah Jessica Parker's movie career has been particularly brutal, between the frankly terrible two Sex and the City movies and uninspired rom-coms like Did You Hear About The Morgans? and Failure to Launch. With her time as Carrie Bradshaw probably over for good, though, Parker's got to keep working somehow, so she's giving the romantic comedy another shot with I Don't Know How She Does It, an adaptation of Allison Pearson's comic novel.
Parker is set to star as the main character, a businesswoman also raising two children, and now The LA Times reports that a whole raft of famous names have joined as well. Christina Hendricks, Olivia Munn, Seth Meyers, Pierce Brosnan and Kelsey Grammar have all signed on for roles in the Weinstein Company film, which starts under director Doug McGrath (Infamous) in January. Hendricks, famous as Joan Holloway on Mad Men of course, will play a friend of Parker's character, while Munn-- a Daily Show correspondent and general Internet babe-- will play a coworker. They're not spilling the details on which roles the men will play, but given that Meyers isn't exactly known for his acting chops I'd imagine his role will be a small one, and Grammer and Brosnan sound pretty ideal to play whatever bosses Parker's character has to struggle against.
Hilariously, the LA Times claims that adding Hendricks and Munn to the cast will make it more appealing to men-- since of course, men who like Googling pictures of both women will totally sit down for a rom-com that features both of them in supporting roles. No offense to anyone involved in this project, but any men who caught a chance glimpse of Sex and the City 2 would be right to swear off anything involving Parker for eternity. Fan as I am of the original show and Parker's comedic skills, I wouldn't blame them.
Your Daily Blend of Entertainment News
Staff Writer at CinemaBlend