Christopher McQuarrie Launching Multimedia Navy SEALs Project Rubicon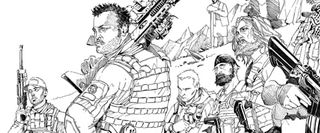 Ever since Osama Bin Laden got capped, Hollywood really wants to be in the Navy SEALs business. While nobody has yet announced an "America, Fuck Yeah! Edition" re-release of the Charlie Sheen/Michael Biehn movie Navy Seals on Blu-ray, there have been plenty of SEAL-related projects announced recently, including movies from Peter Berg, director Kathryn Bigelow, and Mike McCoy and Scott Waugh. Now another big Hollywood name is planning to explore Navy SEAL badassery: Deadline is reporting that Christopher McQuarrie will write, produce, and direct Rubicon, a multimedia project that will tell a Navy SEALs story as a movie, graphic novel, and video game.
Rubicon is described as being in the vein of Akira Kurosawa's Seven Samurai, and will be set in modern Afghanistan. Seven Samurai focuses on a group of seven ronin samurai who are hired to defend a small farming village from bandits. That film was reimagined as The Magnificent Seven back in 1960, and its influence has turned up in countless other places over the years. This time around, the samurai will be replaced by Navy SEALs, and the Taliban will stand in for the raiding bandits.
McQuarrie will co-produce Rubicon with Mark Long and Dan Capel, a founding member of the famous SEAL Team Six. They plan to develop the film, graphic novel, and videogame versions of Rubicon simultaneously. Each incarnation will tell a different storyline that ties into a greater whole. Deadline quotes McQuarrie as saying that "I've always been fascinated with Navy SEALs in general and their role in Afghanistan in particular. With Rubicon, Mark Long and Dan Capel have created the perfect environment for an intense action franchise."
There's no info yet on who else will be involved with the creation of the graphic novel and videogame versions. It all sounds interesting, but this early in the game it's easy to sound interesting. Stay tuned and we'll see if Rubicon plays out better than the short-lived AMC drama of the same name. You can check out some art for the project below.
Your Daily Blend of Entertainment News
Your Daily Blend of Entertainment News
Thank you for signing up to CinemaBlend. You will receive a verification email shortly.
There was a problem. Please refresh the page and try again.