Christopher Nolan, Quentin Tarantino And More Join Fight Against Shorter Release Windows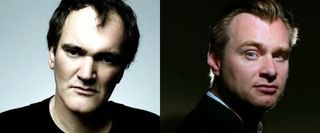 Yesterday's news that Summit was planning an early VOD release for Source Code was all the evidence anyone needs that the battle between movie theaters and cable on-demand channels is still raging. Theater owners, of course, are the ones who hate this the most-- when the news broke in late March that four studios had cut deals with DirecTV to make their own on-demand channel, the head of the National Association of Theater Owners John Fithian called it a "misguided adventure."
Fithian is still railing against the practice, of course, and in a speech at the theater owner convention ShowCanada today, Fithian reiterated his stance, and dropped a few high-profile names that have joined him. Here's what he had to say, according to the press release over at Deadline:
Those are some big names, joining a lot of others already on board the campaign-- in an "open letter from the creative community" posted at the NATO website, filmmakers as wide-ranging as Michael Bay, Kathryn Bigelow and Todd Phillips put their name a plea that "that our studio partners do not rashly undermine the current-- and successful-- system of releasing films in a sequential distribution window that encourages movie lovers to see films in the optimum, and most profitable, exhibition arena: the movie theaters of America." Summit's move with Source Code proves that the studios aren't exactly cowering in the face of this opposition, but the battle lines are being further drawn, and moviegoers in some ways are going to watch on the sidelines to find out where, when and how we'll be seeing movies in the future. ?
Staff Writer at CinemaBlend
Your Daily Blend of Entertainment News
Thank you for signing up to CinemaBlend. You will receive a verification email shortly.
There was a problem. Please refresh the page and try again.