Cloudy With A Chance Of Meatballs 2 Easily Dominates Friday Box Office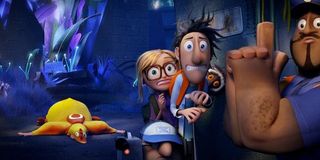 Cloudy with a Chance of Meatballs 2 may not match the jangly comic insanity of the original film released in 2009, but it had an ace in the hole no matter what: families with nothing else to see at the movies. According to the early numbers at The Hollywood Reporter Cloudy 2 was an easy leader at the box office on Friday, making $9.3 million and setting a course for a $35 million opening. That's solidly above the $30 million the first film made in its opening weekend, and about on par with the opening for Epic earlier this year.
The weekend's other three new films were all targeting grown-ups, and the biggest winner of the bunch wasn't technically new-- Ron Howard's Rush opened wide after a limited opening last week, and made $3.6 million on Friday, on track for a $10.8 million weekend and a solid second-place finish, though Deadline predicts it will be edged out in the end by Prisoners, another adult-targeted drama looking good in its second weekend.
Neck and neck for 4th and 5th place are two brand-new efforts, Joseph Gordon-Levitt's directorial debut Don Jon and the Paula Patton rom-com Baggage Claim, both of which made an estimated $3.2 million on Friday. Interestingly, they've gotten vastly different responses from audiences-- Baggage Claim, like Cloudy 2 and Rush, earned an A- CinemaScore rating, while Don Jon received a C+ from audiences. That doesn't exactly surprise us, since we didn't really like it either, but the movie had mostly been well-received by other critics. Maybe JGL's natural charm doesn't quite translate when he's playing a porn addict?
We'll have a full box office rundown for you on Sunday, but in the meantime let us know what you're seeing this weekend, and check out interviews with the stars of the weekend's big new movie below.
Your Daily Blend of Entertainment News
Staff Writer at CinemaBlend