Colin Farrell's Best Role: Crazy Heart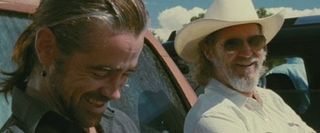 [ed. note: With Colin Farrell set to play the spooky vampire next door neighbor in this weekend's horror comedy Fright Night, it's once again clear that the Irish actor has turned out to have one of the most interesting acting careers going today. He went from a breakout role in Joel Schumacher's Vietnam movie Tigerland in 2000 to the crucial mistake of dyeing his hair blond for Oliver Stone's Alexander in 2004, which led to generic performances in a string of generic big-budget movies. He then went on to recover by giving terrific performances in just about everything, from a small-scale Woody Allen crime movie to a raunchy summer comedy.
But with so many different Colin Farrell performances to choose from, how to you decide which is best? It's a debate that's been tearing the Cinema Blend staff apart, so we've decided to take the question to you guys. Starting today and running every day this week, we'll have our pitches for our favorite Farrell performances. Mack Rawden kicked things off for us with Horrible Bosses and Sean O'Connell stepped up with a defense of Farrell's work in one of his worst critical bombs, Daredevil. Now Katey sticks up for Farrell as the quiet supporting player in Crazy Heart]
All of our installments of "Colin Farrell's Best Role" so far have focused on the actor's star power, his ability to light up a movie screen and grab the audience's attention, whether playing a charismatic villain or an egomaniac cokehead. Colin Farrell has been very famous since the beginning of the last decade, and in most of his best roles since then he's somehow played off that fame, tweaking his good looks or his magnetism to make you say at first, "Hey, that's Colin Farrell," then dig deeper into the character he's actually presenting.
In Crazy Heart, he does the opposite, receding entirely into the background to support a lead actor's role that would eventually win Jeff Bridges his long-deserved Oscar. When the movie was made in 2008 it was a tiny gamble, a country music story from a first-time director that managed to find a strong enough cast to get itself attention and distribution. When Farrell took the role as Tommy Sweet, a country music superstar once mentored by Bridges's Bad Blake, it was the last thing anybody expected of him, the Irish actor known for drug addiction, bad behavior and a handful of blockbusters that tried to turn him into a marquee star when he seemed to have no interest in it. Who was going to buy this guy as an American, much less a country star?
It takes about 30 seconds of watching Farrell onscreen in Crazy Heart to forget all of that, to accept his long-running, tense friendship with Bad Blake and believe him when he encourages his friend to start writing songs again. It's the kind of transformative performance that almost slips past you, fitting seamlessly into the proceedings and not drawing notice to itself at all. Farrell nails the accent, the star demeanor and the genuine affection beneath it all, but more than that, he completely cedes the spotlight, giving a performance so measured in its perfection that you look right past it to Bridges, whom Farrell allows to stay the star of the show. You can't even find a publicity image of Farrell from the film that doesn't include Bridges-- he's the younger and in some ways (or at least before the Oscar) the hotter star, but Farrell knows almost instinctively how to support his co-star and stay out of the way.
Playing Tommy Sweet isn't necessarily the most impressive performance Farrell has given, though when he takes the stage to sing "Fallin' and Flyin' " and "The Weary Kind" at the film's end, he's every inch the movie star. If you'd never heard of Colin Farrell before, watching Crazy Heart might not convince you of his talents. But the movie fits perfectly into his trajectory from strong up-and-comer to washout to, now, intriguing character actor who seems one step ahead at every turn. It came at a time, between In Bruges and The Way Back, when we were all relearning how talented Farrell is, and showed off one thing he may do better than anything-- reining it in and letting his co-star grab the screen.
This poll is no longer available.
Your Daily Blend of Entertainment News
Staff Writer at CinemaBlend