Comic Con 2011: Nicolas Winding Refn's Violent, Romantic Drive Wins Over Hall H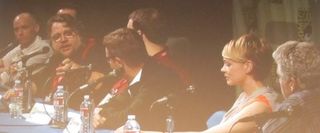 The FIlmDistrict panel in Hall H this afternoon was an uncommon Hall H panel in a lot of ways. A brand-new distributor trying to make its name with audiences, FilmDistrict was repping two movies you might not ordinarily try to present to 5,000 screaming fans-- the indie haunted house movie Don't Be Afraid Of The Dark, and the Cannes hit Drive. Both movies feature recognizable stars like Guy Pearce and Carey Mulligan, but still, you gotta have a gimmick in Hall H, so a trailer introducing the panel described it as a "mash-up," combining panels for two films "by visionary filmmakers who defy ordinary conventions."
As explained when the filmmakers and cast from both films took the stage, the mash-up was apparently the brainchild of Guillermo del Toro, the producer of Don't Be Afraid of the Dark who put the two films together because "I wanted to meet this insane motherfucker." He said that while gesturing to Nicolas Winding Refn, the Danish director of Drive who previously made Bronson and Valhalla Rising. Refn, wearing thick glasses and a crisp white shirt, basically just smiled and went along with it-- you get the feeling he's not entirely sure why he's at Comic Con either.
But even with Guillermo del Toro using the word "fuck" in every other sentence and captivating the room with his usual charm, Refn more than held his own, claiming that when you cast a movie well "it's like sex" and coming up with what should be a classic bon mot about directing: "Directing is really easy, guys. It's just inspiring everyone else to give their best and then you put your name on it." He and del Toro went on to have a fairly in-depth conversation about filmmaking and genre and picking their projects, talking about film in the thoughtful way that you only occasionally see at filmmaker Q&As, and pretty much never see at Comic Con. Refn talked about fairy tale inspirations for the movie, about working with characters as archetypes, about defying the genre of each of the films he's made-- his thoughtfulness combined with del Toro's characteristic bluntness made for probably the most interesting conversation I've ever seen at Comic Con.
As for footage, they kicked things off with the trailer for Don't Be Afraid of the Dark, but from the first moment of the trailer for Drive the focus of the panel had shifted entirely. The trailer, which is not yet online, seemed to present both a tense, almost archetypal action thriller and a moody, almost romantic art film. From what I've heard it's a combination of both, and while I'm afraid the trailer might have given away more than I wanted to see, it presented a pretty irresistible pitch for a thriller that doesn't look like anything I've seen before.
After a little more chatter they presented a scene from the film that confirmed the combination of romance and action in the trailer was no accident. Ryan Gosling's character, a stunt driver who also drives getaway cars for bank heists, enters an elevator with Carey Mulligan's character, a single mother who's also his love interest. Also in the elevator is a strange man who has a gun positioned in his jacket in just the way that indicates trouble. For a long, slow moment Gosling pulls Mulligan to a corner of the elevator and kisses her; then he slams the guy's head into the elevator wall and kicks it in until there's nothing but blood left.
Nobody in the room squealed when Gosling kissed Mulligan, which is how you know the Twilight crowd from this morning was gone, but they did groan in unison at the most violent shot of the scene. As the panel went on and Refn told hilarious stories about his disastrous "first date" with Gosling, it was clear an audience that largely showed up to see del Toro was completely captivated by Drive.
Does this mean that the Comic Con crowd has been convinced to check out a movie that won Best Director at Cannes? I think we've all learned by now that's impossible to predict, especially for a movie that appears to be as uncommon as Drive. I distinctly remember sitting in this room when the crowd went wild for Kick-Ass and Scott Pilgrim vs. The World, and we all know how well that popularity translated to the real world. Then again, the expectations for a movie like Drive are completely different-- the fact that it was such a hit at Comic Con this afternoon indicates potential for a bigger audience than I think anyone imagined. By joking around and telling some sex jokes up onstage today, del Toro and Refn may have changed the formula entirely for what Comic Con success means.
Your Daily Blend of Entertainment News
Staff Writer at CinemaBlend