Complete Resident Evil: Afterlife Image Gallery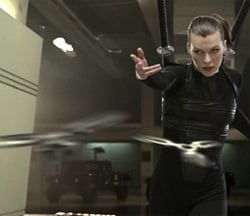 Resident Evil: Afterlife opens this weekend and we're still waiting to hear if it'll be screened for the press, thus signifying whether it's one of the year's biggest meltdowns or a potentially entertaining 3D sequel. It was, at least, filmed in 3D so we won't be subjected to another one of those terrible, Clash of the Titans 3D conversions, but it was directed by Paul "not the good one" Anderson, so don't underestimate his ability to screw it up. I kid Paul. Actually I'm a staunch defender of the original Resident Evil movie, it's easily his best movie, though some might argue that's not saying much.
So Resident Evil's coming and we have no idea what to expect. But we do have a lot to look at. In anticipation of the movie's release this Friday Sony has just released their complete gallery of official Afterlife stills, adding new images to our already large gallery of photos showing Milla Jovovich holding guns. Now you can see her holding even more guns, in an even wider variety of outfits. It's kind of like flipping through an action-figure catalogue. Click on one of the three new sample images below to browse through our full gallery of more than 60 high-res Resident Evil: Afterlife stills, production images, and red carpet photos.
Your Daily Blend of Entertainment News
Thank you for signing up to CinemaBlend. You will receive a verification email shortly.
There was a problem. Please refresh the page and try again.