Could Keira Knightley Play Princess Diana In A Biopic?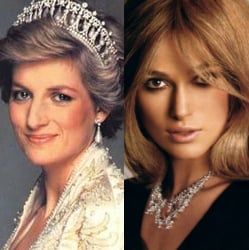 Poor Keira Knightley has already suffered an endless gauntlet of rumors about whether she or her Never Let Me Go co-star would be playing Eliza Doolittle in a revamped My Fair Lady, which still may or may not ever exist. Now the actress, who seemingly can't get out of the British tabloids no matter how little she does to deserve being there, is up for another role that probably isn't real-- playing Princess Diana in a biopic about the Princess of Wales.
Never mind that Knightley really and truly looks nothing like Diana, and that the other half of the rumor is that Helen Mirren would play Diana's mother, Frances Shand Kydd-- meaning she would play both mothers of the Charles and Diana marriage. Really, the explanation for all of this is that the rumor comes from the Daily Mail, which has a long track record of floating completely insane, bound-to-be-false rumors. Yes, next year would have been Diana's 50th birthday and the 30th anniversary of her wedding to Prince CHarles, and people are still interested in the deceased princess. It's very likely we'll be seeing Princess Diana-related movies and TV shows-- just highly unlikely they'll involve stars as big as Knightley and Mirren, at least without a good script or director or some other compelling reason to do it.
The one reason to believe the film could happen is that the article is very specific about the project coming from Pathe, the French film financing company that was behind both The Queen and Knightley's The Duchess. Sure, they probably have the ability to unite the two actresses, but that doesn't mean they will-- and definitely not that they should.
Your Daily Blend of Entertainment News
Staff Writer at CinemaBlend