Could Marvel Recast Daredevil For Avengers: Infinity War? Here's What Charlie Cox Said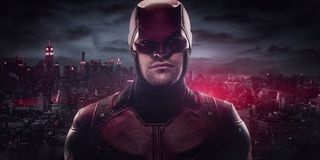 Since it was announced that Marvel and Netflix were teaming up to tell the stories of the characters that make up the Defenders, there has been speculation that these individuals could turn up in the movies somewhere down the line. The obvious spot for this would be the two-part Avengers: Infinity War event, which will include a massive array of superheroes. Charlie Cox, who plays Daredevil, hasn't heard anything about such a crossover, but also wouldn't be surprised to see his costumed alter ego recast on the big screen.
After receiving rave reviews in 2015, Daredevil Season 2 is set to drop in full on Netflix in March. At the Television Critics Association press tour, Entertainment Tonight caught up with Charlie Cox, who admitted he had no idea how such a move might work, and said:
That would suck. I was initially skeptical about Charlie Cox as Daredevil and his civilian day job as lawyer Matt Murdock, but he killed it in both roles. Especially following the disappointment that was Ben Affleck's big screen turn as the Man Without Fear, I'd hate to see them recast the part so soon.
Also, that doesn't seem to be the way that Marvel is playing things. While the DC Extended Universe will feature different actors than their TV counterparts—most notably the Flash will be played by two different people—Marvel has already shown they're willingness to have some back and forth between formats. Phil Coulson from Agents of S.H.I.E.L.D. first appeared in the movies before moving to the small screen, as did Peggy Carter, and we've witnessed the events of the movies impact the action on television. These characters could recast, but that doesn't seem to be their MO.
Further speculation that the Defenders—Daredevil, Jessica Jones, Luke Cage, and Iron Fist—might show up in Avengers: Infinity War arose when directors Joe and Anthony Russo said they were choosing heroes from a stable of 67 characters. That was a bit of an exaggeration on their part, as they later cleared up, but the general gist is that there are going to be tons of characters in play as the MCU heroes try to stop Thanos from taking over, well, taking over everything.
Before we get to that, however, Daredevil will have plenty to do in Season 2. There's the general grime and crime of Hell's Kitchen to contend with, not to mention the daily struggles of a blind attorney, and we know that characters like Elektra and the Punisher will arrive on the scene. That's bound to change the landscape drastically. And at some point he'll come together with Jessica Jones, Luke Cage, and Iron Fist and the Defenders will be born, so there's that to look forward to.
All 13 episodes of Daredevil Season 2 hit Netflix on March 18.
Your Daily Blend of Entertainment News