Creed And The Good Dinosaur Already Are Neck And Neck At The Box Office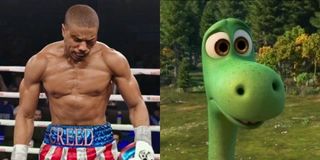 In what would be a battle that I'd pay to see good money to unfold in the flesh, Creed and The Good Dinosaur are now duking it out for supremacy at the top of the US box office after they both hit cinemas on Tuesday night ahead of their wide Thanksgiving releases. And, currently, Creed is out on top having raked in $1.4 million, but The Good Dinosaur is just behind with $1.3 million.
However while both of these films can be rather happy with their debuts - especially since they were both on limited screens – Creed and The Good Dinosaur were still quite some distance behind Hunger Games: Mockingjay – Part 2, which took in $11.3 million. By reaching this amount, Mockingjay is now set to cross over $300 million at the worldwide box office too.
On Tuesday night three new contenders entered the ring to try and topple Hunger Games: Mockinjay – Part 2 , in the shape of Creed, The Good Dinosaur and Victor Frankenstein. They were only released into select cinemas, but they have now expanded into multiples theatres across the US of A just in time to celebrate the Thanksgiving holiday.
Creed performed the most impressively out of this trio. The Rocky spin-off, and, if things go according to plan, reboot took in $1.4 million on Tuesday night. That means that it is well on its way to earning the $30 million plus return for its Wednedsay to Sunday run. While its performances is also set to be buoyed by its impressive critical reception too.
According to The Hollywood Reporter, this is actually the most impressive opening Tuesday night performance ever from a pre-Thanksgiving screening. The previous record came in the shape of 2013's Frozen, which earned $1.2 million.
Despite being eclipsed by Creed, it's thought that The Good Dinosaur will come the closest to challenging The Hunger Games: Mockingjay – Part 2 at the top of the US box office. Pixar and experts are predicting a return of around $60 million, if not more, for the child-friendly adventure. We'll get a clearer indication of whether The Good Dinosaur can reach that amount after its wider-release figures come in.
The Good Dinosaur is expected to have more legs than Creed , though, especially over the Thanksgiving weekend, and with the holiday season just on the horizon too, when kids and adults alike are more likely to flock to cinemas.
Meanwhile, Victor Frankenstein won't challenge any of this trio's grosses. Instead it's expected to flop. It only took in $175,000 on Tuesday night and predictions are that it won't earn anymore than $12 million over the next five days. Which, considering it cost $40 million, means that it has a long trek to make its money back. The critical scolding that it took won't do it any favors, either.
Your Daily Blend of Entertainment News
Thank you for signing up to CinemaBlend. You will receive a verification email shortly.
There was a problem. Please refresh the page and try again.