Crispin Glover Goes To Wonderland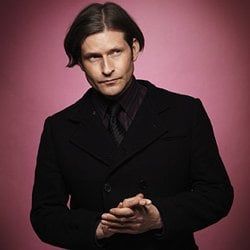 Whether Crispin Glover has seemingly fallen off the face of the earth because he's chosen to, or he's just too bizarre to work with, he's been missed these last few years. Before his turn in Beowulf as Grendel (so perfect!), Glover's roles in mainstream Hollywood movies have been few and far between. And no, the remake of Willard does not count.
But now a role to remind us of his greatness may have come to Glover through a director who's probably about as strange as he is. Latino Review is reporting that Glover will join the cast of Tim Burton's Alice in Wonderland, playing consort to the Queen, the Knave of Hearts. In the movie the Knave will be put on trial by the Queen, and Alice will defend him.
The notion of Glover and Helena Bonham Carter, who plays the Queen of Hearts, acting together is almost too good to believe, and Glover's tiny bit of internal creepiness will surely be amplified by the motion-capture film. Burton's Wonderland continues to be populated by weirder and more wonderful actors, making it all the harder to wait until 2010 to see how it all turns out.
Staff Writer at CinemaBlend
Your Daily Blend of Entertainment News
Thank you for signing up to CinemaBlend. You will receive a verification email shortly.
There was a problem. Please refresh the page and try again.