Cyber Thriller Novel 'Influx' Movie Rights Snagged By Fox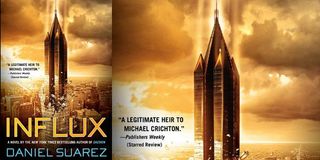 Do you like your sci-fi with a dash of political intrigue and commentary? Then you'll probably squeal over Fox's latest acquisition, Influx. Written by Daniel Suarez, the cyber thriller is set in a world where a mysterious organization is purposely stalling the technological advances of mankind toward some shadowy purpose.
THR reports 20th Century Fox has bought the movie rights to Suarez's fourth novel Influx in hopes of translating it into a chilling thriller. Like the book, the film would follow particle physicist Jon Grady, a brilliant inventor who creates a machine that can "reflect gravity." Having essentially revolutionized his field, he expects massive praise, maybe even the Nobel Prize. But instead his lab is locked down and his findings taken captive by the Bureau of Technology Control. This exclusive group has been hoarding mankind's greatest advancements for their own use, rather than allowing the masses access to them. Grady is offered a place in this insidious group, but his rejection of their elitism lands him in a prison full of similarly defiant geniuses. Can they band together to set mankind back on track?
Suarez, a former systems consultant to Fortune 1000 companies, has an extensive knowledge in software used for finance, defense and entertainment. He has transformed these influences into his novels Daemon, Freedom™, and Kill Decision, as well as his latest. Influx won't hit stores (opens in new tab) until February 20th, but already it's drawing serious praise. Publisher's Weekly said the novel proves Suarez is a "worthy successor to the late Michael Crichton," while Booklist calls it a "A magnificent tour de force," adding "The author's near-future world is so well developed that you completely buy even his wildest speculations."
THR notes Influx is one of a string of dark books that the studio has picked up for movie inspiration. Previously, they picked up Ransom Riggs's peculiar adventure Miss Peregrine's Home for Peculiar Children and attached Tim Burton to helm. Then they snagged Gillian Flynn's bestselling crime novel Gone Girl before landing David Fincher to direct. If Influx follows in this trend, the studio will attempt to pair a big name director with the project to give it a solid voice and an easy selling strategy.
No writer or director is currently attached to Influx but it's amusing to imagine who might be. Personally, I'd like to see Terry Gilliam get the job. I know, his movies of late (The Brothers Grimm, The Imaginarium of Doctor Parnassus) aren't known for their box office prowess. But the premise of a man with a bold idea being forced to rebel against a stodgy society that fear change is totally up his alley.
Gilliam is obviously a long shot for this gig, but at least he has The Zero Theorem coming up. While we wait for its release date and word on who might helm Influx, tell us in comments who you'd like to see take on the project's director's chair.
Your Daily Blend of Entertainment News
Staff writer at CinemaBlend.
Your Daily Blend of Entertainment News
Thank you for signing up to CinemaBlend. You will receive a verification email shortly.
There was a problem. Please refresh the page and try again.