Dad Channels Liam Neeson To Scare His Lazy Kids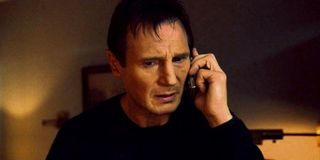 Sometimes threatening your children with groundings or taking away their allowances doesn't cut it. Sometimes you have to instill the fear of god within them by channeling the fearsome and vengeful Liam Neeson.
It's been done before, but this is a story to which any parent can relate: Steve Labuzan of Carmel, Indiana has three children, and all continuously left messes in the kitchen sink. So, where all other methods seemed ill-equipped to remedy such behavior, Labuzan invoked his inner Neeson. The father rewrote the actor's famous speech from Taken and taped it to his kitchen sink. Instead of threatening a group of kidnappers into giving back his daughter, he used it to threaten his children…'s wi-fi and cellphone connections.
Since posting an image of the note to Reddit, Labuzan has gone viral. But even better is knowing that it actually worked. Labuzan said in a video to Good Morning America on Tuesday that his kitchen sink is spotless 98% of the time, a percentage that had never been matched prior to the note. "So I have to say it worked," he said.
The note starts off as Taken fans might imagine: "I don't know who you are. I don't know what you want." But afterwards it gets good.
It's difficult to say if Neeson's words or the fear of losing their internet connections and phone capabilities that forced his kids to change their actions. I'd like to think it was Mr. Bryan Mills - but it seems like the latter. As Labuzan said, each one of his kids — ranging from 16 to 20 — "had their electronic world 'taken' for a period of time" because they decided to test just how far their dad was willing to go. But after staring into the eyes of Neeson and complying with Labuzan's request, they were reconnected.
Labuzan's actions are all for the benefit of his kids. He told GMA that they exceed his expectations in school and life in general, but as they all pass through college, he wants them to be good roommates. If there's anything or anyone capable of invoking longterm fear of failure in this regard, it's Neeson.
Your Daily Blend of Entertainment News