Liam Neeson Says His Taken Movies Have Totally Ruined This One Thing For Americans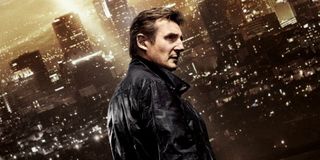 Liam Neeson has a unique set of skills: he's able to have a successful career as an action star in his 60s, he can grapple with wolves, and he can still throw Key and Peele into a tizzy. But the one thing he can't do is get people to go to Europe.
We all thought Ron Swanson was the only one who hated everyone and everything across the pond, but apparently Neeson's Taken movies are discouraging many families from traveling to that neck of the woods. And here's the best part: they just don't wanna get "tooken"! (That's the last Key & Peele reference, I promise.)
Neeson went on The Graham Norton Show to promote Taken 3, which is actually displayed as T3ken for some ridiculous reason. Speaking with the host, he revealed:
We don't know what's more ludicrous, the fact that grown men and women are actually concerned about getting kidnapped in Europe, or the fact that the Taken movies are good for something other than spawning this amazing clip.
(Now that was the last one…)
Despite it's title, though, no one gets taken in Taken 3, so there shouldn't be any further cause for concern. If it did, Neeson most likely wouldn't have been involved. He admitted on the show that he wouldn't have done a third movie if anyone got "taken" again, because it would be an insult to the audience, as well as to the actor. In this latest sequel, Neeson swears that he is "the hunted instead of the hunter."
Taken 3 hits theaters next week on January 9, and as Neeson said, he'll be the one on the run this time around. As revealed in the trailer -- so it's not technically a spoiler, folks -- Bryan Mills is framed for the murder of his ex-wife, played by Famke Janssen, and tries to clear his name and find the real killer while dodging the government and Forest Whitaker. Maybe this installment will actually make families want to travel abroad again. If the previous two made them scared of getting taken in Europe, this one might scare them away from the US government.
Your Daily Blend of Entertainment News
Thank you for signing up to CinemaBlend. You will receive a verification email shortly.
There was a problem. Please refresh the page and try again.