Damon Lindelof Hints At More Klingons In Star Trek 3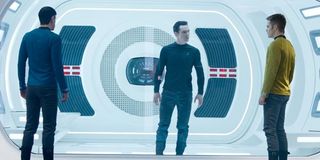 Star Trek Into Darkness, the second entry in the J.J. Abrams-resurrected franchise, has been opening to thrilled audiences all around the world, while those of us in the US have been forced to wait until May 17th. But at least all the red carpet events are providing ample opportunities for cast and crew to spill some beans on what might be next for Kirk and the Enterprise crew.
At the Star Trek sequel's UK premiere, Hey U Guys wrangled a word with producer/screenwriter Damon Lindelof, and scored a clue as to what might be coming in the seemingly guaranteed Star Trek 3. Lindelof, who co-wrote Star Trek Into Darkness with Roberto Orci and Alex Kurtzman, hinted that a rough plot outline for the next film is already in the works. Pushed for particulars, he offered:
Considering the incredibly secretive nature of Star Trek Into Darkness's marketing campaign (who is Benedict Cumberbatch's baddie!?), getting specifics was clearly difficult. But the reporter did manage to ask if this film's villain would return. Lindelof's response is as ambiguous as you might expect:
So when it comes to Star Trek 3, we will probably see Klingons, possibly see more of Cumberbatch. Lindelof goes on to consider that Next Generation iconography might make it into this franchise much later down the line. "Maybe, " he offers, "baby Picard could be born. There has to be some sort of crossover we're not thinking of."
Maybe we'll get a little more info on the third adventure's premise once Lindelof lifts his own personal spoiler code of silence embargo. "I would want to wait about two weeks," He explains, "and let everybody who really wants to see the movie, see the movie, before I personally started assuming everyone had seen it."
In the meantime, you can check out Katey's four-star review of Star Trek Into Darkness here, or see what Abrams has said about returning to Star Trek 3 now that Star Wars has come calling.
Staff writer at CinemaBlend.
Your Daily Blend of Entertainment News
Thank you for signing up to CinemaBlend. You will receive a verification email shortly.
There was a problem. Please refresh the page and try again.