Dan Fogler Talks About Fanboys Failure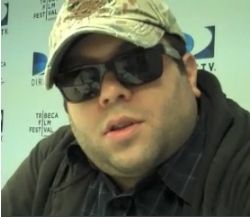 In case you missed our earlier report, Fanboys and Balls of Fury star Dan Fogler is showing his directorial debut Hysterical Psycho at the Tribeca Film Festival this year. I sat down with him the day after that film's premiere (and after-party) and talked a lot about his venture into horror, but I also couldn't resist getting a post-mortem on Fanboys.
You may remember the endless drama over that film's release, involving the Weinstein Company threatening to never release the thing and Star Wars fanboys everywhere dubbing the company's chief "Darth Weinstein." Then the movie was released to critical disdain, leaving the filmmakers frustrated that their original film never saw the light of day. I asked Fogler how he felt about the movie's release in the end, and he put it simply: "They totally missed the boat with that one." He continued, "That movie left a bad taste in a lot of peoples' mouths."
Check out the rest of his thoughts in the short clip below, and check back later for our full interview.
Your Daily Blend of Entertainment News
Staff Writer at CinemaBlend