Deadly Plane Crash Occurs On Set Of Tom Cruise Film Mena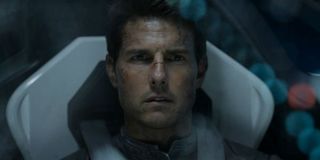 Breaking news has come in that a deadly plane crash occurred on set of Tom Cruise's latest movie Mena. A small plane which was assigned to the crew of the film had a horrific accident leaving two dead and one seriously injured. Officials have confirmed that the Mission: Impossible actor was not aboard the aircraft, but it was a tragic event nonetheless.
Deadline first reported the story of the two crew members killed in the plane crash. There was no confirmation as of earlier this evening, but now, ABC has received word from Colombia's civilian aviation authority confirming the crash. Onboard the plane included American Alan Purwin, who was killed along with Colombian Carlos Berl. The third person aboard, American pilot Jimmy Lee Garland was rushed to the local hospital.
Alan Purwin, who was killed during the crash, was the founder and president of a Los Angeles-based company called Helinet Technologies. His company provided aerial surveillance technology to government agencies and law enforcement. He also was a top film pilot with credits from a number of TV shows as well as major Hollywood movies ranging from Transformers to Pirates of the Caribbean.
The official, who could not divulge too many details about the crash, said that it happened on a twin-engine Aerostar which ran into bad weather during its short flight from Santa Fe de Antioquia to Medellin. Tom Cruise, who had arrived last month on set in Colombia to film the movie has not made any comment thus far.
The movie, Mena is a biographical action drama set in the 1980s following Cruise's character, real-life drug smuggler-turned-CIA asset, Barry Seal. Barry actually played a pivotal role in the events of the U.S.-led efforts to subvert communist Sandinista government. Cruise is joined by Domhnall Gleeson (Ex Machina), Sarah Wright (of the NBC sitcom Marry Me), Jayma Mays (The Smurfs), Jesse Plemons (Friday Night Lights), Caleb Landry Jones (X-Men: First Class) and Lola Kirke (Gone Girl). Cruise's character is a former TWA pilot as well, and most of his smuggling is through flight. Considering the plot of the story, continuing to film a movie about flying, after a deadly plane crash just happened, may be a bit hard to swallow. We can't imagine having to be surrounded by that reminder, especially considering those aboard were members of the crew.
Mena currently has a release set for January 6, 2017. No word yet on whether or not this incident will delay filming. Whether or not the crew was close with the two killed, they may need to take some time off and pay tribute to those lost.
Your Daily Blend of Entertainment News