Details Emerge About Eli Roth's Green Inferno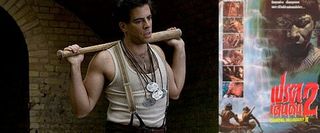 We recently reported Hostel helmer Eli Roth would be returning to the director's chair for The Green Inferno, a horror feature he co-wrote with Guillermo Amoedo after the pair collaborated on the Chile-set disaster movie Aftershock. At that time Worldview Entertainment was keeping the film's premise top secret, refusing to even reveal its logline. However, the title alone was enough for some horror devotees to suspect Roth's inspiration, and now Variety has confirmed their suspicions.
The trade reported that Constantin Film has acquired the rights to distribute Roth's Green Inferno in Germany, and in their write-up revealed the flick would indeed be a remake of sorts of Antonio Climati's 1988 Natura contro, also known as The Green Inferno or Cannibal Holocaust II. The Italian tale of terror is a lesser-known entry in the cannibal-horror subgenre, but one that is well remembered by cult fans of Italio mondo, a film movement that blended documentary footage with staged scenes to create blood-curling horror. Notably, Natura contro is actually not a sequel to Ruggero's Deodato's notorious Cannibal Holocaust, the moniker Cannibal Holocaust II was just a marketing ploy to lure in foreign audiences. Still, as Roth is known for the kind of ghoulish gore Cannibal Holocaust is alternately reviled and cheered for, you can bet it too will serve as some sort of grisly muse.
But what does all this mean for Roth's Green Inferno? Chiefly that the plot will center on a group of "naïve do-gooders" who survive a terrible plane crash in the midst of the Peruvian jungle only to be the prey of a batch of man-eating tribesmen. So basically, it'll fit well with Roth's established xenophobic horror themes.
The Green Inferno goes into production in Peru and Chile this fall.
Staff writer at CinemaBlend.