DiCaprio And Pitt Up For Captain America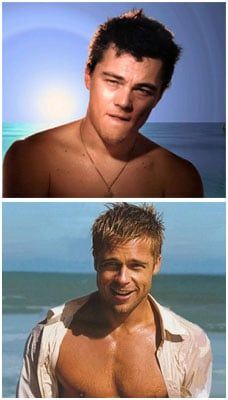 Now that we've gotten Captain America's non-cameo in The Incredible Hulk sorted out, we can all get back to figuring out who is actually going to play Cap, once he finally gets his solo movie. A few weeks ago we told you that Matthew McConaughey might be in consideration, now the guys at Latino Review have come up with a pair of fairly obvious names which they think Marvel may want.
They say Leonardo DiCaprio and Brad Pitt are at the top of Marvel's Captain America wish list. I'm not sure how much of a revelation that actually is, since they're probably at the top of every studio's wishlist for every major, male role (and maybe even a few female ones). I also have hard time thinking of a situation in which either of them would be interested, again because everyone wants them, and because they've both done a good job of staying pretty far away from the whole superhero thing till now.
DiCaprio is built like a scarecrow. He's a great actor, but Captain America? I don't think so. Pitt could pull it off easily enough I suppose, it just seems so obvious. Plus, Pitt has already been rumored for other Marvel roles like Thor, and nothing ever came of those. He's the default every anonymous scooper goes for when they send in one of these rumor stories. Besides, wasn't the word on Marvel that they were trying to keep the cost of these movies reasonable? Getting either of these actors is going to mean one heck of a big paycheck. I just don't see either of these guys ever showing up in any Marvel movie.
Your Daily Blend of Entertainment News
Thank you for signing up to CinemaBlend. You will receive a verification email shortly.
There was a problem. Please refresh the page and try again.