The Dictator Mocks Feminists In New Clip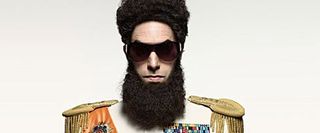 Social satirist Sacha Baron Cohen has become a comedy sensation by fully embodying crude characters with bizarre and laughable personal ideologies. With Borat, Cohen skewered American culture through an anti-Semitic Kazakh reporter whose American Dream involved kidnapping and marrying Baywatch's Pamela Anderson. In Bruno, Cohen mocked homophobia and sexual squeamishness with the outrageous exploits of a fearlessly flamboyant fashionista. Next up, this envelope-pushing funnyman will tackle a new set of taboos with The Dictator, a comedy wherein he plays an arrogant, misogynistic and fascist world leader who seems like a cross between Iranian president Mahmoud Ahmadinejad and the late Supreme Leader of North Korea, Kim Jong-il.
The film's latest trailer finally unveiled its plot, showing Cohen's Admiral General Aladeen being stripped of his signature beard and released upon the streets of New York. Without his facial hair, he is unrecognizable and so has no power or place; that is until a kind-hearted hipster (Anna Faris) takes him in. Still, the main focus of that promo was Aladeen unleashed upon Manhattan. But in The Dictator's latest sneak peek, courtesy of Yahoo, we get a better look at the interplay between Cohen and Faris:
Obviously, this clip pokes fun at the reputably humorless hipsters, but between Faris' mention of a "feminist clown workshop" and Cohen's monkey on roller skates line, it's clear the real object of mockery here is feminists. And while an admitted and proud feminist, I take no issue with Cohen cracking wise on this group; I just wish the jokes were fresher. So far, little from The Dictator's marketing—including Cohen's notorious behavior at the Academy Awards' red carpet—has struck me as very funny. Nonetheless, I laughed until I cried at both Borat and Bruno, so I'm holding out hope that it's the marketing that's bad, not The Dictator.
We'll find out soon as The Dictator opens May 16th.
Your Daily Blend of Entertainment News
Staff writer at CinemaBlend.
Your Daily Blend of Entertainment News
Thank you for signing up to CinemaBlend. You will receive a verification email shortly.
There was a problem. Please refresh the page and try again.