Did Frankenweenie Slow Down Guillermo Del Toro's Pinocchio?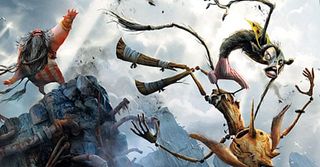 As a story full of magic and monsters, Pinocchio seemed the perfect fairy tale for Guillermo del Toro, the visionary behind Pan's Labyrinth to take on. After years of rumors about its development, we thought del Toro's stop-motion take on this little wooden boy tale would finally be close to fruition since he's wrapped on the sci-fi epic Pacific Rim. But instead his Pinocchio collaborator Gris Grimly has revealed there are upheavals ahead.
Early this morning Gris Grimly, who co-wrote the screenplay and was once lined up to co-direct, took to Twitter with this update:
Grimly also deleted a couple of tweets that had Bleeding Cool suspecting the film was dead, including:
In follow-up tweet, Grimly seemed to suggest that The Jim Henson Company, which was set to produce the pic, has since dropped it, writing, "They look at numbers. Frankenweenie was a box office failure to them."
Despite critical praise, Tim Burton's Frankenweenie cost $39 million to produce and made only $35 million domestically. Still, the film's dismal domestic box office hasn't seem to slow Burton's production slate down. Instead, he scored coveted screenwriter Jane Goldman (X-Men: First Class) to script his own take on the Pinocchio story for Warner Bros.
Despite this competition and its apparent trouble finding studio support, del Toro's Pinocchio's not dead yet! While its prospects are uncertain at present, Pinocchio could prove more promising to possible financiers if Pacific Rim wins over critics and audiences this summer. Until then, we'll all just have to wish upon a star.
Your Daily Blend of Entertainment News
Staff writer at CinemaBlend.