Director Wants To Make Dune, But In Animated Form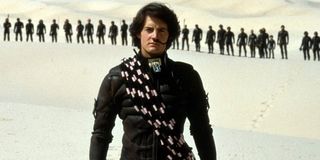 Ari Folman, who has earned a great deal of acclaim as the the director of the psychedelic science fiction adventure, The Congress, and the animated feature, Waltz With Bashir, would be up for turning Alejandro Jodorowsky's Dune into an animated feature. Can we just all take a second to appreciate how cool something like that could be?
Unfortunately, there isn't anything confirmed, but that's not stopping us from imaging the possibilities. An animated Dune is really more of a twinkle in Folman's eye. After seeing Frank Pavich's 2013 documentary, Jodorowsky's Dune, a film about Jodorowsky's ambitious but ultimately doomed attempt to bring the novel to the big screen in the 70's, Ari Folman recently admitted that he was interested in bringing Jodorowsky's vision to life. While Jodorowsky wasn't ever interested in turning his vision for Dune into an animated film, he did say that it would most likely only be a matter of time before an ambitious animator turned his 300 pages of storyboard into something of that nature.
Speaking with the folks at Den of Geek, Folman says he would be up for that challenge. While he's currently working on other projects, the filmmaker does have Jodorowsky's contact info, and plans to meet with him. Here's hoping that the two filmmakers can work together to bring Jodorowsky's ambitious version of Dune back from the dead. Ultimately, it was that ambition that canned the film back in the 70s. The script was too long, it spent too long in pre-production, the funding just didn't come through, and the film just didn't happen.
Of course, David Lynch directed a very different Dune in 1984, and though Lynch did everything he could to help the audience get excited about the world of Dune, it was released to a very mixed reception. My own personal experience has suggested that fans either love Lynch's Dune or completely hate it. More than that, it left Dune fans wondering what could have been if Jodorowsky's version had come to fruition. With the advancements in movie-making and animation technology, I cannot imagine what amazing bits of movie-making magic could be in store for us if Folman is actually able to bring Jodorowsky's vision back to life. Folman's love of the science fiction genre and the source material would only help make this version an amazing adaptation of Dune. For those fans let down by Lynch's interpretation, it could also bring the epic science fiction tale to life in a way that Lynch's film didn't, capturing the immense and complex world with fresh and exciting vibrancy. If nothing else, a Dune film with updating special effects technology would be truly amazing.
Since bringing an animated version of Jodorowsky's Dune to life is nothing more than a sweet--and terribly exciting--dream at this point, we will just have to wait to see what happens as Folman and Jodorowsky discuss the future. Until then, you can see Folman's film, The Congress, on Blu-ray and DVD December 8th, and you can get more of a taste of Folman's animation skills in Waltz With Bashir, which is available on Blu-ray and DVD now.
Your Daily Blend of Entertainment News
Thank you for signing up to CinemaBlend. You will receive a verification email shortly.
There was a problem. Please refresh the page and try again.