Disney Brings Nightmare Before Christmas 3D Into Homes, Hopes Tim Burton Is Enough Of A Draw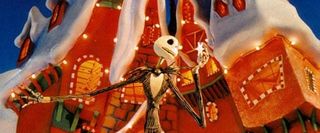 Both Disney and Tim Burton are all over 3D right now, and when you put the two together you get The Nightmare Before Christmas 3-Disc 3D Combo Pack, hitting homes on August 20. While the release will get the "before Christmas" part right, it seems Disney might be blowing its wad a little early.
We've already heard about the calculated Lion King and Beauty and the Beast releases, which proves Disney has spent a lot of time carefully deciding when and how films will head onto 3D. While Burton's Alice in Wonderland 3D success has certainly given him more importance with the studio, it seems as if more money would be made converting a vaulted Disney film onto 3D. However, because The Nightmare Before Christmas was converted on to 3D and had a 3D theatrical run back in 2007, it looks like Disney is under the "Why not?" impression.
The studio isn't leaving the expensive $49.99 release totally up to chance. The 3-disc 3D Combo Pack will come with an overload of extras beginning with a special introduction by Tim Burton, an un-cut version of Burton's Frankenweenie short, and a short film called Vincent. The Nightmare Before Christmas-oriented featurettes will include a "Tim Burton's Making of" documentary discussing the stop-motion animation process and "The Worlds of Tim Burton's The Nightmare Before Christmas." Finally, deleted scenes, storyboards, the original theatrical trailer, a "Haunted Mansion" segment, and commentary from—you guessed it—Tim Burton will come with the 3-disc purchase.
What's more impressive: the number of times 3D was spit out in this article, or the number of times Tim Burton managed to splash his name all over everything?
Your Daily Blend of Entertainment News