Diversity Actually Helps Films Perform Better Internationally, According To New Study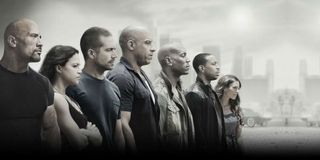 Diversity. As Anchorman's Ron Burgundy would say, it's not just an old wooden ship used during the Civil War era. A debate has long been waged regarding the importance of inclusivity and diversity with regards to Hollywood casting. Although it seems like a no brainer, many major motion pictures have failed to capitalize on the potential benefits of a culturally and ethnically diverse ensemble. New studies have just been released that definitively prove that movies do better overseas when they include a diverse cast of performers, because science.
According to UCLA's Hollywood Diversity Report (h/t Vulture), new evidence has come forward effectively dispelling the myth that predominately white, male-centric films maintain the best mass appeal. The results indicate that movies with an overall higher percentage of minority actors generally perform better than monochromatic, predominately white ensembles. In fact, films with roughly 50% minorities in the cast garnered the highest median box office gross overseas, far outperforming films with mostly white actors. Despite the apparent benefits of casting a diverse ensemble, an overwhelming percentage of major motion pictures feature only up to 30% minorities, but that number has been on the rise.
It should seem like common sense if we look back on some of the biggest successes over the last year. From the Fast and the Furious franchise, to Straight Outta Compton, to even Star Wars: The Force Awakens; these films maintained fairly diverse casts comprised of people from numerous races, genders, and ethnic backgrounds, and international audiences seem to have responded well to that with immense box offce payoff.
Other predominately white blockbuster franchises seem to slowly be catching on to this idea. Just take the Marvel Cinematic Universe, for example. While that universe began with mostly white male characters and actors, the series has begun to realize that more diverse characters yield great results. It took long enough, but we're finally going to get the Black Panther and Captain Marvel solo movies we have always wanted.
The report goes on to speculate that much of this has to do with the people in charge behind the scenes in Hollywood. Of the three biggest talent agencies in the film industry, these massive companies clock in at about 90% white and almost 70% male dominated. This doesn't mean that forms of discrimination are intentional in any way, but the lack of diversity behind the scenes can potentially lead to a bias that prevents minorities from getting ahead in the industry.
We've recently seen this play out on a massive scale. Hollywood nearly imploded during Oscar season when the #oscarssowhite controversy reared its head. As a result, the Academy of Motion Picture Arts and Sciences has set about attempting to generate more forms of inclusivity in order to prevent that sort of bias from occurring again. Some people consider it a start; while others think extreme measures must be taken. Now that we have concrete evidence that it's a solid investment to give these roles to minorities, perhaps showbusiness will start to take a more progressive approach to its business model.
What do you think of this study? What does Hollywood need to do in order to generate more inclusivity and foster more success overseas? Let us know what you think in the comments and keep the conversation going.
Your Daily Blend of Entertainment News
Originally from Connecticut, Conner grew up in San Diego and graduated from Chapman University in 2014. He now lives in Los Angeles working in and around the entertainment industry and can mostly be found binging horror movies and chugging coffee.