Doctor Strange, Ant-Man Confirmed As Marvel Phase Three Films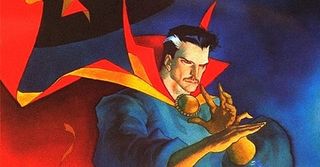 According to Marvel Studios, the doctor is in, and he'll be ready to see you in the company's planned Phase Three of programming.
The "Phases" are the way that Marvel President Kevin Feige has been breaking up the stages of Marvel movies. Phase One consisted of the various origin stories for Iron Man, Captain America and Thor. It included Iron Man 2 and concluded with Joss Whedon's The Avengers. Filmmakers are hard at work on Marvel's Phase Two, from Shane Black delivering Iron Man 3 to Alan Taylor hammering away at Thor: The Dark World.
But Feige just confirmed a serious hint as to who might be gearing up for a standalone movie in Marvel's eventual Phase Three: Doctor Strange.
The Marvel executive tells MTV News that a Doctor Strange movie "is definitely one" of the movies planned in that stage of release, joining Edgar Wright's Ant-Man as a Marvel movie we'll see in theaters after The Avengers 2
Feige has been excited about adding Strange to Marvel's arsenal of heroes. And as the storylines continue to explore the dark corners of outer space (as they will in Thor: The Dark World an possibly The Avengers 2), it only makes sense that Doctor Strange's magical realms could and should be brought into the fold. Now if we can figure out how to pull Spider-Man and The Fantastic Four away from their respective studios and team them up in these developing stories, us Marvel nerds could die and ascend to movie-geek heaven.
Movie junkie. Infatuated with comic-book films. ReelBlend cohost. Resident dad. Extroverted introvert. Wants to see the Snyder Cut. Managing Director at CinemaBlend.