Dolls Used To Spoof World War II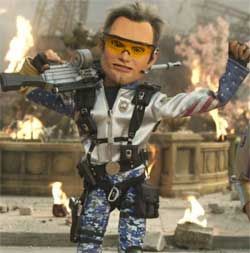 Team America was a great little diversion cooked up by "South Park's" Trey Parker and Matt Stone, but I don't think anyone thought they'd start a trend by making an entire movie with marionettes. Apparently plastic-actor filmmaking is catching on though, since The Hollywood Reporter says UK production company Swipe Films is planning a $2 million war movie with GI Joe style action figures as stars.
This isn't an episode of "Robot Chicken" that they're filming here. In addition to having significant budget figure, they're hiring legitimate UK stars to provide voices. Tom Wilkinson, Alan Cumming, Rosamund Pike, Richard E. Grant, and Timothy Spall are already at work recording their vocal tracks.
The movie's called Jackboots On Whitehall and it's a comedy spoof set during World War II. The film's producer Frank Mannion describes the script co-written by the film's first time director Edward McHenry and his brother Rory as, "one of the funniest scripts I have read in a long time." But then he probably said the same thing about the last movie he produced, Johnny Knoxville's Grand Theft Parsons.
I love Team America, but I have serious doubts about whether this gimmick will work in another film. Once was great but unless they really do have a truly brilliant script, this one could be tough. Still, there's potential in their willingness to try something different. Pushing the envelope a little should prove interesting, even if it blows up in their face.
Your Daily Blend of Entertainment News
Thank you for signing up to CinemaBlend. You will receive a verification email shortly.
There was a problem. Please refresh the page and try again.