Don't Expect An Avatar Sequel Anytime Soon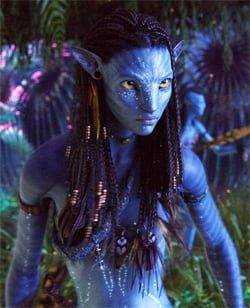 Avatar, despite its shortcomings in story, managed to claw its way to the top of the all-time box office records and rabid fans still want more. You can see the film again this weekend during its re-release, but there will more than likely be a sequel--just not right away, according to producer Jon Landau, who recently sat down with the kind folks over at Coming Soon.
The mega producer spoke about Cameron's career, mentioning that the two sequels he'd done in the past (Aliens and Terminator 2) managed to at least match the quality of their predecessors, which puts a lot of pressure on him for an Avatar follow up. The sequel, or sequels as have been rumored, will only get made once the material is there for Cameron to work with, but the writer/director's focus won't be swayed by tech since that part of the process has already been developed.
This sort of freedom will leave Cameron free to develop a script as "entertaining and unique" as the multi-billion dollar original. Or course, Avatar wasn't exactly that unique a story, and we've seen what the tech used in Avatar can do already, so it'll be interesting to see just what the True Lies director will do to dazzle audiences and raise the bar yet again.
There's a handful of movies that James Cameron is interested in directing himself, so don't get your hopes up for a sequel in the near future. It took Cameron ten years to put together the tech to make Avatar and it worked out; just let the man move at his own pace and take the news whenever it comes along.
Your Daily Blend of Entertainment News
Thank you for signing up to CinemaBlend. You will receive a verification email shortly.
There was a problem. Please refresh the page and try again.