Donnie Yen Offered A Role In The Expendables 2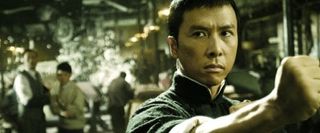 The Expendables 2 is already set for an August 17 release date next year, which gives new director Simon West less than a year to assemble the most ass-kicking men he can find, equip them with weapons, and film the madness as it unfolds. But even though the production is apparently set to start in Bulgaria next month, West is still putting together the pieces of the cast, and if you're an action star who wasn't in the first one, you'd better believe you've been contacted this time. That's the case, at least, for Hong Kong action star Donnie Yen. whom Twitch reports has been offered a role in the film.
The star of the Ip Man films as well as Blade II and Shanghai Knights, Yen is an obvious choice to join the lineup of action legends in the film, which includes returning stars Sylvester Stallone and Jason Statham along with Arnold Schwarzenegger in a bigger role, plus newcomer Jean-Claude Van Damme. There's also a rumor that Chuck Norris and John Travolta might be getting in on the action, but we may not have that confirmed until the cameras actually start rolling.
One other casting element not yet confirmed is Jet Li, who rumor has it won't return for the sequel. If that's the case they really, really need to get Yen on board, or at least someone else who can represent Hong Kong action movies, which are just as influential if not more so than the 80s macho American action films that most of this cast represents. The Expendables 2 will presumably just as over the top and absurd as the original, but they could at least provide a variety of action stars to watch beating the crap out of each other-- with so many Hong Kong talents to choose from, it'd be insane for them not to get at least one of them on board.
Your Daily Blend of Entertainment News
Staff Writer at CinemaBlend