Drag Me To Hell Clips And Behind The Scenes Video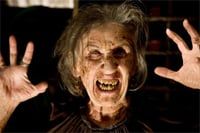 I saw Drag Me To Hell a few months ago, in Austin's awesome, bat infested Paramount theater. I can't wait to see it again. It's a kickass good time, even for someone like me, who's not exactly a big fan of the horror genre. But this is Raimi, he transcends the slasher crap we've all grown so used to do, well, his own thing. You're going to love it.
To get things primed, below we have five clips from the movie and a long piece of behind the scenes footage showing Sam Raimi working his directing magic on the Drag Me To Hell set. Watch all six videos and make sure you're there, ticket in hand, on May 29th.
CLIP: Mrs Ganush Talks To Christine
CLIP: Christine Asleep
CLIP: Christine Grabs A Flashlight
CLIP: Christine Calls Clay
CLIP: Christine And Clay With Rham
Behind The Scenes
Your Daily Blend of Entertainment News
Thank you for signing up to CinemaBlend. You will receive a verification email shortly.
There was a problem. Please refresh the page and try again.