DreamWorks Animation Snatching Up Casper, Archie And He-Man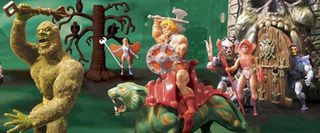 With a tradition of pumping out sequel after sequel, DreamWorks Animation is often accused of valuing commerce over artistry in their films, especially when compared to Pixar. And the latest news out of Hollywood isn't likely to help that image as the studio behind Shrek Forever After and Madagascar 3 is in talks to buy a cache of classic characters that include Casper the Friendly Ghost, Archie, Waldo (of "Where's Waldo?" fame), Voltron, the Veggie Tales crew, Lassie, The Lone Ranger, and He-Man and the Masters of the Universe.
More specifically, Variety reports DreamWorks Animation has entered into negotiations to buy out Classic Media, which owns all of the characters named above. While on it's surface it may seem this deal positions DreamWorks to have a cavalcade of new source material from which they can spin a bevvy of new family-friendly franchise flicks, the trade notes that Classic Media does not in fact own the TV or film rights to all of these characters. So, essentially, DreamWorks is buying the rights to license consumer products (read: tons and tons of toys) of the memorable characters above. Even if DreamWorks never makes a movie from the Classic Media properties, buying the company for roundabouts $150 million could easily prove profitable as Classic Media made $376 million last year through licensing alone.
Aside from The Lone Ranger, which Jerry Bruckheimer and Disney are currently shooting as an insanely big action epic, it's largely unclear at this point which characters' film/TV rights are not owned by Classic Media. However, it's safe to assume DreamWorks has designs on creating at least a few movies from the Classic cast of characters. The question now is which ones?
Staff writer at CinemaBlend.
Your Daily Blend of Entertainment News
Thank you for signing up to CinemaBlend. You will receive a verification email shortly.
There was a problem. Please refresh the page and try again.